2020 C.A.S. Hawker Scholar Sai Campbell has been awarded one of three 2023 Rhodes Scholarships for Australian-at-Large Scholars postgraduate study at Oxford University. Previous C.A.S. Hawker / Rhodes Scholarship recipients are Michael Jones, Rachel Buxton, Anthony Roediger, Phillip Killicoat and Yasmin Poole.
'I am immensely indebted to the CAS Hawker Scholarship for making my dream of studying at ANU a reality. This scholarship completely altered the trajectory of my life and that of my family. It will continue to do so for many others. It is wonderful to think how much someone's generosity can enable a young person's vision to make the world a better place. I endeavour to pay forward that generosity as much as I can,' 2020 C.A.S. Hawker Scholar Sai Campbell said.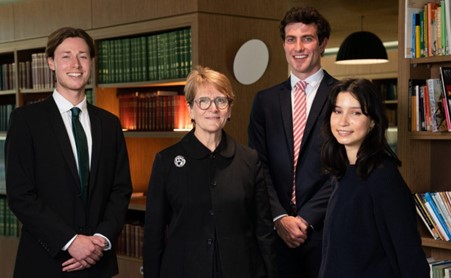 2023 Rhodes Scholars-Elect Dr James Leigh, Max Kirkby, and Sai Campbell with (centre) Committee Chair Justice Michelle Gordon. Photo Credit: Tracey Nearmy ANU Media
Sai and fellow ANU Rhodes Scholar Max Kirby will be studying at Oxford in the field of helping to fight infectious diseases and neurodegeneration. Sai, Max, and Dr. James Leigh from Curtin University WA were elected by a committee chaired by Justice Michelle Gordon of the High Court of Australia.
The announcement of Sai's award was made in Canberra earlier this week.
The prestigious Rhodes Scholarship recognises outstanding students and enables them to study for a minimum of two years at the University of Oxford. Scholars are selected on the basis of academic and intellectual excellence; integrity of character; energy to make a difference; and capacity for leadership.
Sai was born in Thailand and completed honours in epidemiology at ANU in 2022. Her research examined public health interventions in the COVID-19 pandemic. She is deeply committed to improving the accessibility of tertiary education for students from low-socioeconomic backgrounds.
At Oxford, Sai intends to study emergency infectious disease response, where equity and epidemiology interlink, under the supervision of colleagues from Oxford and the World Health Organization.
The Rhodes Scholarship is the oldest graduate scholarship in the world (and is) considered among the most prestigious international scholarship programmes in the world. Its founder, Cecil John Rhodes wanted to promote unity between English-speaking nations and instill a sense of civic-minded leadership and moral fortitude in future leaders, irrespective of their chosen career paths. Initially restricted to male applicants from countries that are today within the Commonwealth, Germany and the United States, the scholarship is now open to applicants from all backgrounds and genders from across the globe. (Wikipedia)
Rhodes Scholars have achieved distinction as politicians, academics, scientists and doctors, authors, entrepreneurs, and Nobel Prize winners. Many scholars have become heads of state or heads of government. Australian Prime Ministers Tony Abbott, Bob Hawke and Malcolm Turnbull are Rhodes Scholars.
ANU has an outstanding record of educating multiple Rhodes Scholar awardees over recent years.
"Rhodes Scholarships are for candidates who are not just academically outstanding, but also demonstrate leadership potential, community service, and the energy to make a difference. It's wonderful to see these characteristics so strongly evident in the three Australia-at-Large Scholars-Elect, as well as the six other Scholars-Elect from around Australia," Professor Peter Kanowski from ANU and the National Secretary for the Rhodes Scholarships in Australia said.
Up to nine Rhodes Scholars can be elected across Australia each year, with more than 500 elected since 1903.
"We are delighted with Sai's further recognition by being awarded a 2023 Rhodes Scholarship. She was an impressive C.A.S. Hawker Scholar and there is no doubt her contribution in her chosen field of study will be significant and ongoing," Chair of the C.A.S. Hawker Scholarship Andrew Hawker said.
More information:
Ian Doyle OAM
Media Coordinator
C.A.S. Hawker Scholarship
0417 819 189