Degree: Bachelor of Development Studies & Bachelor of Laws
Institution: University of Adelaide
In Residence: St Mark's College
Career Goal: Environmental law and environmental policy development.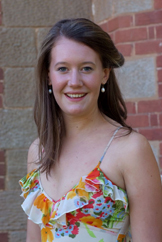 Sarah Dickins is an outstanding student and was a positive contributor to her school and local Mt Gambier community. Her academic performance at Mount Gambier High School was exemplary. Her TER score in 2008 was 99.2.
On several occasions Sarah was presented with the Principal's Award in recognition of outstanding citizenship within the school. She was awarded numerous academic prizes during her secondary education across a range of subjects, a tribute to her commitment to her studies. Sarah completed two-year 12 mathematics subjects during her year 11, scoring a Merit Certificate in Mathematical Studies. Sarah also scored high distinctions and a state prize in the national Westpac Maths Competition. In 2008 she won the award for the most outstanding academic achiever at Mount Gambier High.
Sarah is an all rounder. She has won age championships in athletics, holds the record for discus and has won a number of medals at state athletics championships. In 2007 Sarah was the state champion Under 18 hammer thrower. She is an active and competitive swimmer, cross country runner and an enthusiastic member of the Mount Gambier High School girl's soccer team.
Sarah's most outstanding achievements are possibly in the fields of debating and public speaking. In 2006 Sarah was the Junior South Australian Champion for Rostrum Voice of Youth. In 2008 Sarah won the senior state section and was placed 2nd nationally. As a speaker, she is enthusiastic, articulate, powerful and compelling and has an ability to think cogently and deliver both prepared and impromptu speeches.
Sarah speaks on topics she is passionate about, usually environmental issues with a scientific background. Topics include the water crisis, nuclear power, disposable nappies, fluoridation, organ donation, the financial crisis and the Youth Allowance changes.
In order to help develop others' public speaking, Sarah has attained Certificate level AMEB Speech in Action, which qualifies her to teach others. She has run debating and public speaking workshops at her high school and two primary schools. She has often volunteered at the Mount Gambier Eisteddfods, announcing in both the Music and Speech and Drama sections, and being the critique runner in the Debating section.
She has also adjudicated numerous debates at primary and high school level for many different schools. As a result, she has not only developed her own skills in both impromptu and prepared public speaking, but has helped advance the skills of others. Four youths she mentored have gone on to the national level in public speaking competitions. Hundreds of local students have also developed their confidence and speech writing abilities. Sarah has found this to be very rewarding, providing other students with the same sorts of opportunities and assistance she was given.
Sarah believes a strong community cares for and nurtures all of its members, from the most disadvantaged groups to the most privileged. She believes the worldwide distribution of resources is inequitable, and for this reason she has been a group leader for 6 years of the World Vision 40 Hour Famine, raising over $5000 to fund sustainable projects in third world countries.
She is also a committee member on the Sunrise Community Soup Kitchen, volunteering to help serve food on a weekly basis to those in need in her local community. Sarah has been a member of the Mayfair Choir for the past 6 years. The choir sings at many local functions as well as performing for the aged. This volunteer work allows Sarah the opportunity to both give back to her community. It also provides a great sense of pride and a feeling of belonging.
Sarah has also been a panelist for the National Youth Science Forum (NYSF) for the past two years, helping to interview, select and prepare participants.
In her gap year in 2009, Sarah lived and worked in Canada for six months including as a volunteer at the Winter Olympics. She also worked in a local potato production and processing company. Both were life-changing experiences.
Sarah is passionate about many things but her two real passions are Science and Law. They are the two degrees she has chosen to study at Adelaide University. Her life journey will continue to be filled with high achievement and compassion for others.