Degree: Bachelor of Arts & Bachelor of Laws
Institution: University of Adelaide
In Residence: St Mark's College
Career Goal: Public health with the WHO or similar NGO and fight for the rights of the less privileged.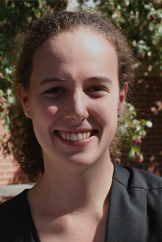 If there were such a thing as a dream team for model students, C.A.S. Hawker Scholar Ms Melanie Johnson would be a player. She is a keen, enthusiastic and committed student. Her teachers say of her that Melanie fits into the 'not to be forgotten' category for all the best reasons. She is a capable young lady, mature beyond her years.
At an early stage of her secondary education at Unley State High School in Adelaide, Melanie was identified as a student with high intellectual potential and was placed in the school's Gifted and Talented class. Melanie graduated in 2008 with a TER of 98.3 and in 2009 she commenced her studies at the University of Adelaide.
Her academic achievements are constant and outstanding. She was Dux in 2008 and the recipient of the Gillard Award for Outstanding Leadership. The Deputy PM is a past student at Unley High School. The Gillard Award is for outstanding participation in and leadership of a wide range of school extra-curricula or community activities: and possessing a high level of personal integrity and ethical behaviour.
In her final year at Unley, Melanie's achievements were recognized with awards for service, good sportsmanship, participation, academic excellence, Mathematics, French, Biology, Physical Education and Chemistry - to name but a few.
She considered medicine but decided that Health Sciences will allow her to achieve more at the grass roots level. Law will help her to gain invaluable skills of negotiation and informed debate. At the conclusion of her degrees, Melanie hopes to work in Australia improving health outcomes of Aboriginal people and those in rural areas. With that experience she wants to work in the field of public health with WHO or a similar NGO and with a law degree, provide assistance in working with bureaucracy and to fight for the rights of those less privileged.
Melanie participated in a school Amnesty International group and is now a member of the United Nations Youth Association.
Her sporting participation and successes are also outstanding. Canoe polo, triathlons, athletics, swimming, netball, basketball, touch football, AFL, hockey, cross country, orienteering, dance and mountain biking are on the list - and she holds a Silver Medal for the Duke of Edinburgh Award.
She is both a referee and a coach of junior teams in a number of sports both in a paid and volunteer capacity. Maintaining a life balance with study is always a challenge however Melanie has achieved this difficult balancing act.
She is a member of the Matrics Netball Club State League squad and was selected at 16 to be a member of the Women's Open State Touch Football Squad. This has meant travelling annually to Nationals and Australian University games.
Melanie grew up in a family that values knowledge and discovery and the family travelled extensively around Australia. Accompanying her father on work trips to the APY Lands gave her a chance not only to witness the lives of others, but also helped her begin to understand the cultures of Australia's indigenous people and recognise their connection with the land.
When she completed year 12, Melanie trekked around Borneo for 3 weeks. Travelling from Australia on her own, the trip not only gave her the confidence of travelling solo in a foreign country, but also helped her understand how easy it is to pass judgement on things that we don't really understand. This journey encouraged Melanie to think more broadly and consider that there are several sides to every story and to understand the often hidden complexities behind every problem.
Through her sport and studies she hopes to be able to develop the personal skills to contribute towards the global society and help others become empowered and reach the position where they can do the same.