March 2018
Ms Melanie Johnson
Hawker Scholar: 2010-2012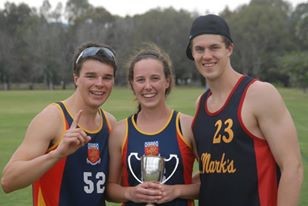 Mel was awarded a Hawker Scholarship in 2010. She attended Adelaide University and lived at St Mark's College from 2010 to 2012. Mel graduated with a Bachelor of Laws (Hons)/ Bachelor Health Sciences and was recently awarded a Graduate Certificate of Disaster and Refugee Health.
At University, she was awarded an Aurora Internship and worked with the Aboriginal Medical Service Alliance in Darwin and she spent time volunteering with health sector NGOs in Fiji.
While at St Mark's she was a Floor Tutor, was awarded numerous Captaincies and College Colours for multiple sporting teams and was an active participant in college life. She was presented with a University Blue for Touch Football and represented Australia at the Under 23 Korfball World Championships in Barcelona.
Mel was successful in obtaining a Graduate position with the Department of Communities and Social Inclusion and ultimately won a role as a Housing Officer with Housing SA. Mel managed over 450 public housing tenancies, developed relationships with tenants from a variety of backgrounds and learned skills in conflict resolution, advocacy and efficiently generating detailed case management records.
In 2015, Mel commenced work with the Ngaanyatjarra Pitjantjatjara Yankunytjatjara (NPY) Women's Council as a Domestic Violence Case Worker and Advocate. Mel now resides in remote Aboriginal Communities throughout SA, NT and WA, where she works closely with local Anangu community members, Police, Courts, the Office of the Director of Public Prosecutions, health services and other organisations.
Mel finds the work challenging but hugely rewarding; made easier by the strong relationships she has made in the bush, and the support of strong friendships that she developed during her time at St Mark's.
Mel represented South Australia at the National Touch Football League and placed third in the Uluru Half Marathon in 2017.
She enjoys the travel to remote and otherwise largely inaccessible areas, the opportunity to be immersed in Anangu culture and to promote and support the safety of vulnerable women and children.