1998
Ms Kirsty Jane Munro
Hawker Scholar: 1998 - 2000
Degree:
Bachelor of Arts (International Studies) 1995-1997
Bachelor of Music (part time) 1997
Master of Arts (International Relations) 1998-2000
Master of Asian Studies (Japanese Language) 1998-2000
University:
University of Adelaide -1995 &1997
Kansai Gaidai University Osaka -1996
ANU Canberra -1998 /2000
Career Goals:
To further Australia's international political relationships, particularly in Asia, through a career in the Department of Foreign Affairs and Trade.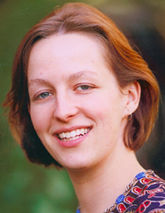 Kirsty graduated from the the Geelong Grammar School in 1994 with a TE Rank of 97.3%. From 1995 to 1997 Kirsty studied for a Bachelor of Arts at the University of Adelaide and was in residence at St Mark's College in 1995 where she was involved in the debating, sporting and musical aspects of college life, as well as enjoying the Mountain Club and Swimming Club at the University.
Kirsty is fluent in Japanese and in 1996 she was awarded a scholarship by the Japanese and Australian Governments to enable her to study for twelve months as part of her Arts Degree at Kansai Gaidai University in Osaka.Kirsty successfully applied to the Trustees of the C.A.S. Hawker Scholarship on her return from Japan to study for an Honours Degree in International Studies / Asian Studies and to then complete her Master of Arts Degree (International Relations) at ANU in 2000.
She is currently in residence at Burgmann College and her course in 1999 included Global Environmental Politics, International Relations Theory and Japanese Newspaper Readings. In January 1999 Kirsty was one of a dozen young Australians selected to represent her country aboard the 'Ship for World Youth', the Nippon Maru. The 'Ship for World Youth' is an initiative of the Japanese Prime Minister's Office and is run every two years for young people aged 20 - 29.
Kirsty joined delegates from 12 nations on board for two months and visited several countries in Asia, the Pacific, and South America. "The voyage is as much about the people you meet and what you can learn from them as it is about a geographical journey. It's a journey into yourself, a personal exploration as well as an exploration of other cultures."