2008
Ms Katherine Radoslovich
Degree: Bachelor of International Studies
Institution: University of Adelaide
In Residence: St Mark's College
Career Goal: To work as an Australian diplomat or with an International Aid organisation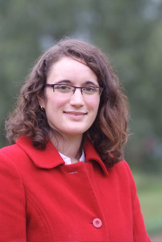 Katherine is an outstanding individual and an exceptional student. She loves learning. She also believes everyone should make the best of every opportunity they are given and always look on the positive side of life. She enjoys a challenge and sets high standards for herself.
Katherine grew up in Adelaide and attended East Marden Primary School, where she was identified as a Student of High Intellectual Potential. She was accepted into Glenunga International High School's IGNITE Program and completed the International Baccalaureate in 2006 with a TER of 99.8.
Life for Katherine is about getting the balance right. She has been an active member of Scouts Australia since 1998, working as a volunteer youth helper with her local Cub Pack, completing her Sailing and Rowing Charge Certificate and earlier this year she was presented with her Queen's Scout Award.
When you join scouts, you make a promise: On my honour, I promise to do my best to do my duty to my god, and to Australia, to help other people, and to live by the Scout Law. The Scout law focuses on personal characteristics, such as being trustworthy, loyal, friendly, considerate and respectful. All are characteristics of Hawker Scholars.
She's a member of the South Australian Youth Advisory Council (YAC) and National Youth Council (NYC) for Scouts Australia. Both groups provide a voice for youth. She's an active member of SA YAC, making a contribution as Xtreem editor, even while she was in Hungary in 2007. Xtreem is a youth-run magazine that goes to all South Australian scout members.
Music is another important part of Katherine's life. She was a member of the Adelaide Youth Sinfonia (AdSI), a talented youth orchestra with connections to the Adelaide Symphony Orchestra. In 2005, with three of her friends, she started a well-regarded and successful string quartet at Glenunga International High School. Katherine believes that if you commit to a team, especially one where the outcome is important to other members, you have a duty to do your best and not let them down through laziness and selfishness.
She was recognized with the school Service Award in 2006, largely for her participation in the quartet, but also for her greater contribution to the music and broader school community during her time at Glenunga.
In 2005 she was given the opportunity to visit Glenunga's sister school in Thailand (Mahidol Witthayanusorn School in Bangkok) for three weeks. The poverty she saw influences the way she thinks today. Her short experience in Thailand helped ignite her interest in travel and international affairs and seriously altered the way she now views the world.
An AFS Intercultural Program scholarship in 2007 allowed Katherine to go to Hungary for 11 months. This was another life-changing experience. Throughout the year, she lived with several families, attended school and learnt the language.
AFS's motto is "peace through understanding". Katherine believes if we can meet and understand people from different backgrounds, we can accept and embrace cultural differences and avoid future wars, to create a peaceful world. Stereotypes can be extremely harmful, and often first-hand experience is needed to change them. She continues to support AFS as a volunteer and wants other people to have the opportunities she has experienced.
She is multilingual, interested in international relations and the important role played by aid organizations. She is fascinated by how the world works, how a few people can changes the lives of many, and how we can create a more just, peaceful world.
The world needs more people like Katherine.