May 2012
Ms Katherine Radoslovich
Hawker Scholar: 2008 - 2010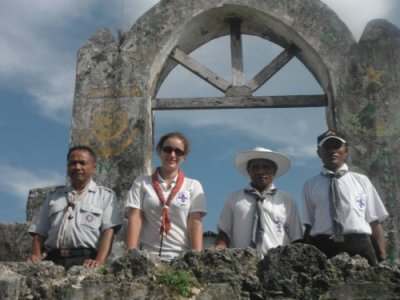 Kathy Radoslovich with members of UNE-TL National Council
It has been a year and a half since I left the beautiful campus of St Mark's College in Adelaide, where I stayed for three years during my time as a Hawker Scholar, and I thought now was a good time to update you on my life since then.
After leaving St Mark's at the end of 2010, I was accepted into the Australian Youth Ambassadors for Development (AYAD) program, and from July 2011 until February 2012 I was lucky enough to volunteer in beautiful Timor Leste.
During my 7 months as an AYAD, I was based in Dili, Timor-Leste, working with Uniao Nacional dos Escuteiros de Timor Leste (UNE-TL, the Timorese National Scout Movement). UNE-TL is a fascinating organisation. Scouting has a long history in Timor-Leste. For 30 years, two Scout movements existed side-by-side in Timor, and the Scouts played an important role in the Resistance and Clandestine movements during the Indonesian Occupation.
After independence, the two movements came together to form a national Scouting organisation. My placement came at a very important time in their history. My project was to help UNE-TL establish its National Office, train their office staff, and design and conduct their first national census. In addition to this, I worked closely with their National Council, participating in their Second General Assembly, helping coordinate an advanced leader training course run by a training team from Australia, went on consultation visits to Scout groups across the country, and was present for the Induction of President Jose Ramos Horta as the Patron of UNE-TL.
My experience as an AYAD was both rewarding and challenging. Timor-Leste is a challenging place to live and work. However, drawing on resources and Experience from my study, time at college and co-curricular activities, I threw myself into life in Dili. In addition to my work with the National Council of UNE-TL, I developed good relations with several local Scout groups, and attended a number of events with them.
Highlights included participating with in the Santa Cruz Massacre memorial parade with the Motael Church Scout Group and attending the Ba Rai Concert and Earth Expo run by the Permascout Group in Dili. I also got involved with the expatriate community, joining the Dili Community Choir and the UN Women's Soccer Team. This brought with it many exciting moments, such as performing at an American Embassy Christmas party and making the Grand Final in the International Stabilisation Force's soccer competition. I also made many friends, and travelled to many stunningly beautiful parts of the country.
Leaving Timor, I am satisfied that my work has greatly strengthened the bond between Scouting in Australia and Timor-Leste. I hope that this bond will last for many years to come. I have learnt another language and had insights into a culture very different from my own. Your body may leave the shores of Timor, but part of your heart will always remain.
I arrived back in Adelaide in February this year, and have since recommenced my studies. I graduated from the University of Adelaide with a Bachelor of International Studies and a High Distinction average in April, and am currently undertaking Honours in History. In April I was awarded a University of Adelaide Honours Scholarship. I have continued to be involved in Scouting, I am tutoring at St Mark's College, I play Netball for a mixed social team and I'm studying Belly Dancing and Bollywood dancing several nights a week.
My time as a Hawker Scholar was an invaluable help in preparing me for the challenges I faced last year. Without a Hawker Scholarship I would not have attended St Mark's College, and would not have gained the life skills and interpersonal communication development that helped me cope with the challenges of living and working in Timor. For this I send my deepest thanks to the Trustees, and hope that I can continue to use and develop these skills for many years to come.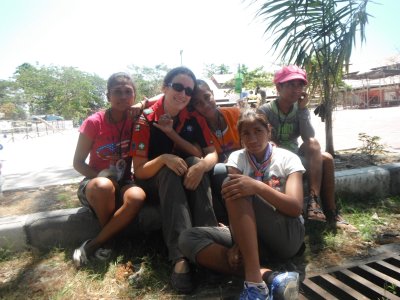 With Scouting Friends at the Ba Rai Concert Dili, September 2011