2004
Mr Charles Deutscher
Hawker Scholar: 2004 - 2006
Degree: Arts / Law (International Relations)
Institution: Australian National University & in residence at Burgmann College
Career goal: To pursue a career in International Relations/Law/Languages, working towards a leadership role with the aim of improving the quality of life in our world community.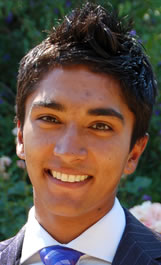 Charles Deutscher was educated at the Ballarat Grammar School in Victoria. He studied French, English, Further Mathematics, Biology, Legal Studies and Geography. He completed his secondary education in 2003 with an ENTER score of 96.4.
Charles was school Vice-Captain and has an impressive list of awards and certificates as a result of his achievements while at Ballarat Grammar. Some of these include a Gold Duke of Edinburgh Award, school colours for music and community service, numerous academic merit and academic excellence awards, a bronze medallion in lifesaving and a Rotary Youth Leadership Award.
His community work includes participating in the Round Square International Service Project to Kenya in December 2002, working with Amnesty International, Salvation Army doorknocks, participation in Clean Up Australia Day in 2001 and 2002 and the World Vision 40 Hour Famine Appeal in 2001, 2002 and 2003.
Charles is an outstanding student from a multi-cultural background who has many extraordinary qualities. As well as the time he spent in Kenya, he has travelled to North America, Europe, South Africa, New Caledonia and Asia. He is a confident, articulate and enthusiastic young man who is determined to make the most of every opportunity.
Charles is a creative thinker who leads by example, shows excellent leadership qualities and is capable of achieving at the highest level across a range of disciplines.
He understands Charles Hawker's strengths and his commitment to his fellow man and in his own life, he is determined to make a difference.