2015
Mr Alexander Makarowsky
Degree: Bachelor of Engineering (Honours), Telecommunications
Institution: University of Adelaide
In Residence: St. Mark's College
Career Goal: Implement new communications technologies and also work for Engineers Without Borders
Education History: St Francis Primary School, Lockleys SA; Nazareth Catholic College, Adelaide SA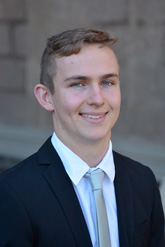 Alexander Makarowsky is a gifted and talented student. He is an outstanding individual. Alexander has been an elected student leader throughout his education and was awarded the ADF Long Tan Award for student leadership in 2012.
In 2014 he received the College's Principal's Award, the Archbishop of Adelaide's Award for Excellence and the school's own 'Nazareth Award' in recognition of his dedication to the College and its values. He was College Captain in 2014 and took great pride in representing and dedicating his time to Nazareth.
During his time at Nazareth College he consistently won Academic Awards, highlighting and consolidating his considerable academic talent. He has also consistently been presented with Application Awards as a reflection of his continued dedication and commitment to his education. Alex has been on a clear trajectory to absolute excellence.
His secondary school journey culminated in the achievement of five merits for his Stage 2 studies, earning him the SA Governor's Commendation and placing him in a very select group of individuals. He was College Dux with an ATAR of the highest possible score of 99.95.
Aside from Alex's outstanding academic achievements, he has also been a student who openly contributed to the school community, through actively participating in a wide variety of co-curricular activities.
He immersed himself in a breadth of experiences including participation in numerous sporting teams and membership in clubs including debating and chess. He also developed a strong sense of social justice during his time at the College.
He participated and led initiatives including the World Vision 40 Hour Famine, the St Vincent de Paul can drive, Caritas fundraising week and Nazareth's own Quiz Night.
The Quiz night raised over $14,000 for outreach programs in the Northern Territory's Bathurst Island and East Timor. He travelled to Bathurst Island in 2014, and with other year twelve graduates, ran a retreat program for youth of a disadvantaged community on the island.
Alex is going to change the way we communicate with each other. He envisions building the protocols and networks which will allow every Australian to take full advantage of an accessible, world-class Internet. He also foresees developing or implementing new communications technologies to meet Australia's ever-growing communication needs.
He considers telecommunications to be a pivotal, growing and vibrant field with enormous potential to assist global economic development and integration. Challenges such Internet censorship, mass surveillance and anticompetitive corporate practices remain obstacles in unlocking that potential and requires government and industry collaboration to be overcome.
He also aspires to work for Engineers Without Borders Australia, to give impoverished communities outside of Australia access to proper communications.
Alex is destined to make a significant contribution on the world stage. He is a rare individual of exceptional talent and is a deserved winner of a C.A.S. Hawker Scholarship.