Hawker Scholar: 2005 – 2006
Degree: Bachelor of Laws / Legal Practice & International Studies
Institution: Flinders University & in residence at St Mark's College
Career goal: A position with the Department of Foreign Affairs & Trade, politics or journalism.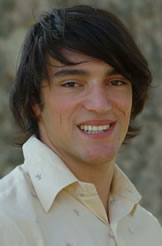 "Young people are not leaders of tomorrow, they're leaders of today" is a motto by which Alex Rafalowicz has lived his life. Alex is a second-year student at Flinders University and is studying a Bachelor of Laws / Legal Practice & International Studies degree.
His secondary education was completed at the Unley High School in Adelaide. Through his outstanding academic, sporting, dramatic, debating, journalism, SRC and community involvement Alex has clearly demonstrated his commitment to make Australia, and the rest of the world, a better place.
His contributions were recognised with numerous awards and trophies while at Unley High. These include the Verna McCarthy Prize for outstanding contribution to the community, the Phillip Perotta Memorial Prize for outstanding contribution to performing arts, the Barr Trophy for the best speaker at the UN Youth Associations National Youth Conference, finalist in the Lions Youth of the Year, deputy head prefect, member of Amnesty International, organiser of the Unley High School 'Peace Day', Captain of the winning open A division team in students debating, Captain of the rowing club and member of the 1st V111 and vice captain of the school's second X1 soccer team. He's been a panelist on an ABC Radio National 'Talk Back Classroom' with former leader of the Labor Party Mark Latham.
Since commencing his tertiary studies at Flinders University, Alex has continued his involvement in many facets of the community, academic and sporting life. These include the Red Shield Appeal as a district chair, Secretary and now President of the UN Youth Association of SA, member of the Australian delegation to the Hague International Model United Nations, Treasurer of the ALP Unley sub-branch, Editor of the Empire Times and member of both the Flinders University Union Board and Student Council.
Alex is an outstanding young Australian who has clearly demonstrated by his actions and commitment that he will make a difference – and achieve his aim of being 'a world-changer'. Alex Rafalowicz is a most deserving winner of a Hawker Scholarship.