Degrees: Bachelor of Law and Bachelor of International Relations
Institution: Australian National University
In Residence: Burgmann College
Career Goal: To work as an international lawyer and then a politician
Education History: AB Paterson College (Qld) and ANU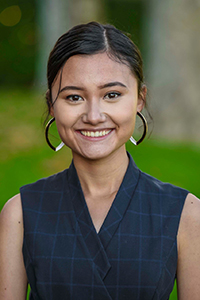 Miss Jasmin Poole is an outstanding student and a remarkable young woman. She has achieved much in a very short time. She grew up on a farm near Axedale in regional Victoria and has completed the first year of her studies at the Australian National University to an HD standard.
She has always had an inner drive to speak out for those less fortunate. She is a strong leader with tenacity and drive. She has a passion for social justice and a practical approach to progressing complex social issues.
Her academic record is excellent and her debating and public speaking skills are of an exceptional standard. She was awarded best debater at the 2017 Victorian Youth Parliament and has appeared as the youngest panellist on the ABC's Q&A programme. This involved debating with three Senators issues including climate change, mental health and LGBTIQ rights. She was chosen through being the Chair of the Victorian Government's Youth Congress in 2018.
Yasmin already has a commendable track record in youth advisory and advocacy, most notably as Chair of the Victorian Youth Congress. In this role she represented 1.2 million young people in advising the Victorian state government on youth policy, focusing on improving mental health policy for young Victorians.
Yasmin has learnt the power of belief and dedication from her family. She has a keen sense of disadvantage in social, political and economic realms, based in part on her personal experience.
She has thrived as a result of being actively involved in the ANU community during her first year of studies. She is the Vice President of the ANU International Law Society, hosting lawyers from the International Criminal Court and United Nations. She was elected as General Representative to the ANU's student council and was MC of an ANU major alumni event, facilitating a dialogue between ANU Chancellor Gareth Evans and former Human Rights Commissioner Gillian Triggs.
This year Yasmin will sit on the ACT's Red Cross Humanitarian Law Committee. She is the youngest ever committee member and will be part of their panel of international lawyers and activists to advocate for peace and against civilian casualties in war zones. This is yet another of Yasmine's major passions.
Last year Yasmin was selected by the Duke of Edinburgh Award to represent Australia at the APEC Conference in Papua New Guinea, attended by US Vice President Mike Pence and China President Xi Jinping and politicians and executives from across the world.
She was invited by the Australian Prime Minister to attend the ASEAN-Australia Special Summit in Sydney. Once again she was of their youngest ever delegates.
She is an advocate for gender equality. She also helped draft the NGO Equality Rights Alliance's 'Women, Peace and Security' policy, which was presented to the United Nations Commission on the Status of Women.
She has won a plethora of awards including the Zonta International Jane M. Klausman Women in Business Award, the Head of Global Business Development for 180 Degrees Consulting, the Victorian Government Joan Kirner Young and Emerging Woman Leader Prize and the Harvard-UNICEF Impact Challenge, where she designed the best refugee policy plan for Manus Island and Nauru refugees.
Yasmin believes she has the capacity, tenacity and resilience, like C.A.S. Hawker, to create a fairer country for young Australians. There is no doubt she will succeed in this endeavour and whatever else she sets her mind to achieve.