January 2013
Mr Phillip Killicoat
Hawker Scholar: 1999-2001 Adelaide University (St Mark's College)
Currently: Vice President of Commodities, Credit Suisse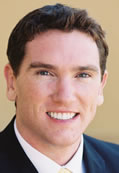 The generosity of the Hawker Scholarship allowed me to explore my interest in commodity markets at Adelaide University and I have since developed my intellectual interest into commerce. Having analysed water markets, the adoption of genetically modified crops and trade liberalisation on home soil, I continued my study of economics with a Masters at Oxford University as a Rhodes Scholar.
Highlights of my time at Oxford included a secondment at the UN's Food and Agriculture Organisation, co-authoring a chapter on Trade and Food Security, and work with Paul Collier on the international trade in assault rifles, cited in The Bottom Billion and Democracy in Dangerous Places. I built on my background in triathlon and took up rowing at Magdalen College, and rowed 4-seat for Isis in the 2006 Oxford-Cambridge Boat Race.
For the last 4 years I have been in London, working on the commodities trading desk for Credit Suisse. My work covers mining finance and risk management for companies around the world and includes leading the development of futures markets in iron ore and coking coal, Australia's two largest exports.