January 2010
Mr Patrick Mayoh
Hawker Scholar: 2007 – 2010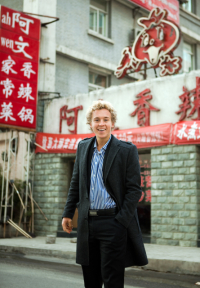 After returning from six months volunteering in Ghana and selling wines in Beijing, I vividly recall meeting many of the Hawker trustees and family in early 2007 for a friendly and relaxed interview in Adelaide. From this time, I have thoroughly enjoyed being part of the Charles Hawker network and have benefited greatly from the invaluable support offered under the Charles Hawker Scholarship.
As a Hawker Scholar from 2007-2009, I was able to undertake a kaleidoscopic mix of extracurricular activities at the Australian National University ('ANU'). As President of the ANU Law Students' Society, President of the ANU Chapter of the Australia-China Youth Association, Residential Representative on the Burgmann College Council and a Faculty of Law and Asian Studies Representative on the ANU Students' Association, I was able to dedicate a great amount of time to contributing to university initiatives. This involvement allowed me to advocate students' views outside the university, including representing the ANU at the United Nations Association of Australia Conference on the Rights of Indigenous Peoples and working on the ACT Law Society's Equalising Opportunities in the Law Committee.
I have also had the pleasure of working with other Hawker Scholars on university initiatives and community service activities. I thoroughly enjoyed working with Michael Jones, Laura Gartry, Matthew Coulton, Rose Bollard, Ashoor Khan, Samuel Stapleton, Sue-Lin Wong, Vithiyasagar Sritharan and Sarah May on the Burgmann-Doomadgee Community Partnership and the Wadjularbinna Foundation. These organizations seek to foster enduring relationships between indigenous and non-indigenous Australians through cultural and educational exchange programs. Serving the broader community with fellow Hawker Scholars has been one of the most rewarding aspects of my university career.
The Hawker Scholarship has also allowed me to pursue my passions. In 2008, I competed in the International Chinese Bridge Chinese Proficiency Competition in Hunan, China, culminating in a televised grand final viewed by over 30 million Chinese! Following this experience, I was able to work for Network Seven at the Beijing Olympic Games. I have also volunteered for the new Chinese radio station in Canberra, Chinese Radio International 88FM and performed a cross-talk performance at the Celebration of China's
National Day in front of over 400 leading members of the Chinese community in Canberra.
As a result of my ability to engage in these activities and specialize in Chinese Studies, I have recently been awarded a Prime Minister's Australia Asia Endeavour Award to study Mandarin and Law at China's prestigious Peking University. After graduation from the ANU with a Bachelor of Asia Pacific Studies/Laws and a Graduate Diploma in Chinese Studies in 2012, I am confident I will be eminently suited to pursue a career in a field related to foreign affairs and Australia-Sino relations.
The supportive environment at Burgmann College, the opportunity to establish lasting friendships with other Charles Hawker Scholars and the high quality of education at the ANU have strongly assisted me in achieving my goals and augmented my aspirations to pursue a career with the Department of Foreign Affairs and Trade, the United Nations or in federal politics. It has been a great honour to be part of the strong network of Hawker Scholars and family who share a vision to serve the broader Australian community and perpetuate the memory of such an inspiring leader. I will always work towards upholding the ideals of Charles Hawker and have been inspired by his story throughout my university career.