April 2023
Mr Oliver Douglas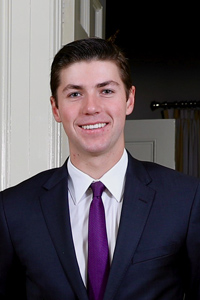 Mr. Oliver Douglas graduated from St John's Grammar School in 2018 and last year completed Bachelor of Arts and Bachelor of Laws degrees at the University of Adelaide with exceptional grades.
The Trustees have determined that Oliver Douglas's scholarship tenure be extended, to allow him to complete a year of post graduate work in History at the University of Adelaide, while continuing to reside at St Mark's College.
Oliver's career goal is to contribute to Australia in the public service or the military.
Oliver is an intelligent, focused, well balanced and service oriented young man. His secondary education was competed in 2018 as School Captain at St John's, with an ATAR of 98.85.
Oliver is a member of the Australian Army Reserve. He is exercised by the big ideas of politics, civic life, history and philosophy - including economic and political globalisation forces, environmental issues, demographic changes and the role of automation and AI on future work and lifestyles.
During his undergraduate years at St Mark's College and the University of Adelaide, Oliver has performed outstandingly in his studies and a in variety of extra-curricular activities, with a strong focus on service and leadership.
These activities include College Vice President, President of the South Australian Association of University College Clubs, researching and writing with St Mark's Head of College Professor Don Markwell AM, profiles of St Mark's women of distinction, to mark the 40th anniversary of coeducation at the College.
Oliver has been commissioned as Lieutenant in the Australian Army Reserve and awarded the Royal New South Wales Regiment Prize for his constant demonstration of exemplary field skills and tactical knowledge.
He is a young man of integrity, with a social conscious.
Please join me in congratulating C.A.S. Hawker Scholar, Mr. Oliver Douglas.