November 2016
Ms Jacqueline Williams
Hawker Scholar: 2011 - 2013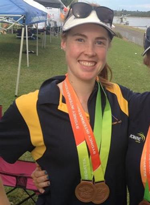 I was stoked to be awarded the C.A.S. Hawker Scholarship in 2011. The Hawker Scholarship enabled me to live at Burgmann College while studying at the ANU, and to become part of a fantastic group of Hawker Scholars. Living at Burgmann was one of the best experiences I had at university. I got to meet a wide range of people and I got involved in a range of sporting, arts, and social activities. I particularly loved playing in the Interhall sports competitions, including as an ex-ressie once I left Burgmann. It's always great to be part of a team!
Located only a five-minute run from the ANU Boat Club (ANUBC) shed, living at Burgmann was also a boon to my involvement in rowing. Since 2011, I've been an active member of the ANUBC and have represented the ANUBC in local, state, national, and international competitions. I've coached learn to row programs and captained the club. Following my enjoyable experience on the ANUBC Committee, I am now on the Rowing ACT Board, as well as the ANU Sport Council. I'm looking forward to staying involved in these activities after graduation.
This year I have been completing a Bachelor of Asia-Pacific Studies (Chinese Studies) and a Bachelor of Laws with Honours. I have really enjoyed my studies at ANU. In 2013, it was an honour to receive the Burgmann Medal for my academic results and contribution to residential life.
I've also loved the opportunity to travel overseas to study and attend conferences as part of my program at the ANU. I spent a semester on exchange at the University of Toronto, Canada in 2014 and a 'summer' exchange program at the National University of Singapore in 2015. I also represented the ANU at a leadership conference in 2014 at Nanjing University, China. It was great to put some of my Mandarin skills into practice in China. I really value the importance of travelling to different places to meet a diverse range of people and work together. As I write this, I'm thinking it is a real treat to finish off my undergraduate studies with a trip to Dublin, Ireland to attend the International Undergraduate Awards Summit (as a 2016 Global Winner in the law category).
I'm looking forward to seeing where my ANU undergraduate degrees will take me and shape my future work and study experiences. I hope to continue to learn new things, get involved in a variety of different activities and meet new people, just as I have at the ANU and Burgmann College with the support of the Hawker Scholarship. It is always great to catch up with other Scholars and I look forward to staying I contact in future years.
After graduating from the ANU and since my last update, I've been working at King & Wood Mallesons (KWM), an international law firm headquartered in China – a perfect fit for my combined Bachelor or Laws and Asia-Pacific Studies degrees. I completed a Graduate Diploma of Legal Practice through the College of Law in 2017 and was honoured to receive the Prize for Overall Excellence in the program. Since my admission to the ACT Supreme Court in October 2017, I have been working in the Mergers & Acquisitions (Corporate) team at KWM. In this role, I have advised a broad range of clients, including the Commonwealth government and major Australian banks, on a range of matters. In particular, I have advised on financial regulatory compliance, government procurement, corporate governance and data/privacy. Following my undergraduate thesis on privacy laws, and my Undergraduate Awards essay on the Corporations Act 2001 (Cth), it's been fantastic to be able to broaden and deepen my understanding of the law in these areas.
I have continued to combine my passion for sport with my interest in good governance of community organisations. I sat on the Board of Rowing ACT for 3.5 years, where I oversaw the planning and management of rowing events in the ACT. I have also been a Director on the Board of ANU Sport for 4.5 years, where I have played a key role in the drafting and adoption of a new Constitution, the launch of the inaugural ANU Sport scholarship, recruitment of a new CEO and development of a 2017-2021 strategic plan. Following my recent election to President of the ANU Sport Board, I look forward to my continued involvement in the organisation, despite the challenges of a tumultuous 2020 (such as bushfires, hailstorms and a global pandemic!).
In the past four years, I've been privileged to travel overseas – although this time for sporting events instead of academic endeavours! In 2017, I represented Australia in the World Nations Dragon Boat Championships in France (where we earned five bronze medals). In 2018, I was again honoured to represent Australia, this time in the Dragon Boat World Cup in Chongqing, China and the Asian Dragon Boat Championships in Foshan, China (where we earned three silver and two bronze medals) – it was also great to practice my mandarin with the champion Chinese dragon boat team. Last year, it was a real highlight to compete in the 55th Head of the Charles rowing regatta in Boston, U.S.A along with alumni from the University of Toronto, Canada with whom I rowed while on exchange in 2014.
Most of these experiences have stemmed from opportunities gained through studying at the ANU and living at Burgmann College, thanks to my C.A.S. Hawker Scholarship. I am still very grateful to have been a recipient of this prestigious scholarship. As for the next few years, I am interested to see how my career, sporting and governance activities will unfold. I know I will continue to learn new things, get involved in a variety of different activities and meet new people, just as I did at the ANU and Burgmann College with the support of the Hawker Scholarship.