April 2016
Mr Gillon McLachlan
Hawker Scholar: 1992-1994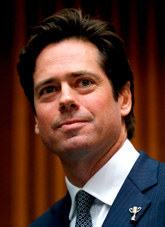 The Hawker Scholarship provided me with the opportunity to attend Trinity College at Melbourne University, which facilitated extraordinary change in my life – a new environment, new market, new friends and new challenges.
I finished my Law degree in Melbourne, travelled for a year, then worked as a Management Consultant with Accenture in their Strategy Division working across different functions, industries and markets.
In 2002, I joined the AFL where I initially ran Strategy, then Commercial Operations. I have had many roles since, culminating in being appointed Chief Executive Officer in April 2014.