August 2018
Ms Elizabeth Day
Hawker Scholar: 1995 - 1998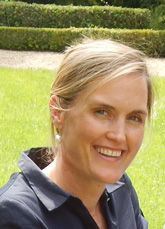 The Hawker Scholarship facilitated my university studies, opened up a rich on-campus life at St Mark's (SA) and Burgmann (ACT) student colleges and helped to launch my career in international relations. Robin Ashwin, a former diplomat and then Master of St Mark's College encouraged me to join the Department of Foreign Affairs (DFAT) as a graduate trainee in 1999. I have worked at DFAT ever since and enjoyed a rich and diverse career.
My first overseas experience was in 2000 as a peace monitor on the island of Bougainville (PNG). I was deployed alongside the (unarmed) Australian army to help foster peace following a prolonged civil war. This involved conducting multi-day camping patrols by helicopter and on foot to discuss the peace process with locals – some of whom had never met anyone outside of their villages. The raw beauty of Bougainville was breathtaking. The dynamics of post-conflict reconstruction were fascinating.
In 2002 I set off on my first full diplomatic posting as the Third Secretary responsible for Australia's relationship with a number of agencies of the United Nations in Vienna. We also covered Slovenia, Slovakia and Bosnia. I would wake up each morning thinking that I had the best job in the world's most breathtaking city. Many years later, I still believe that.
In 2007 I commenced a posting in East Timor. I learned to live under curfew. My work enabled me to explore the country's intriguing politics. On my weekends I explored the wild countryside on a mountain bike and with a tent. When my posting came to an end in 2009, I did not want to leave, so I used my long service leave to work for the then Timorese Vice Prime Minister, Mario Carrascalao.
In Canberra, I have worked on Australia's diplomatic relationship with a range of South East Asian countries, on corporate issues, and most recently on diplomatic and consular law. I have also had the privilege of learning four different languages prior to my postings: Tok Pisin, German, Tetum and French.
From 2014 to 2017, I worked as the Political Counsellor at Australia's Embassy in Paris. The Embassy also covered Morocco, Algeria, Monaco and Chad. It was a challenging time for France, which was subject to numerous terrorist attacks. On the positive, this period saw a significant upswing in French/Australia relations, with France winning the contract to build twelve submarines in South Australia worth $50 billion.
I am currently the Director of the South Australian Office of the Department of Foreign Affairs and Trade and am very pleased to bring my family back to Adelaide. Despite all my travels and experience, I remain a proud South Australian, very grateful for the opportunities that the Hawker Scholarship enabled.