Degree: Bachelor of Law / Bachelor of Arts
Institution: University of Adelaide
In Residence: St Mark's College
Career Goal: To pursue a leadership role in an environmental NGO and help solve the climate change crisis
Education History: St Ignatius' College 2006 - 2010; ATAR 99.8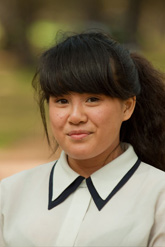 Miss Yen Pham by any measure is a remarkable and quite exceptional young woman. Her results for the 2010 Year 12 SACE Certificate were outstanding. She achieved perfect scores for English Studies, Classical Studies and Philosophy. She was Dux of St Ignatius' College and was awarded Academic and Co-curricular Full Colours by the College in 2010.
Miss Yen Pham is a gifted public speaker and debater at college and state levels. She enjoys playing badminton, she loves to cook and she takes great pleasure for the poetry of T.S. Elliot.
She is the daughter of refugees and a first generation Australian and wants to vigorously engage in the climate change debate and participate in delivering solutions to this pressing issue.
Miss Yen Pham has a genuine concern for the wider community. Her work for the Model United Nations won her the Boutras-Ghali Shield and she represented South Australia at the national Evatt Trophy in Canberra. She also volunteered for the Australian Youth Climate Coalition (AYCC) and is an active member of this association. She is a person of action as well as words. She helped organise a regional youth climate summit in Adelaide in 2010 and co-ordinated the newsletter for the group.
Her published Letters to the Editor in the Advertiser Newspaper in Adelaide on various global and environmental issues argued her position succinctly and demonstrated an intelligent and mature grasp of political issues beyond her years.
Miss Yen Pham is an independent person as well as a hard working and reliable team member. She is a natural leader. She was elected a College Prefect in 2010.
Some of her volunteer work included tutoring refugees and migrants in English at the Adelaide School of Languages; assisting people with disabilities at the Strathmont Centre and working with the Saint Vincent de Paul Society on Fred's Van.
Miss Yen Pham will succeed in her determination to make a positive contribution to Australia and the planet. Ms Yen Pham is an outstanding young Australian who has already made a difference.