Degree: Bachelor of Arts / Law
Institution: Australian National University
In Residence: Burgmann College
Career Goal: To contribute to the Australian and International Society by working with aid organisation Oxfam or Ausaid or pursuing a career with a political focus.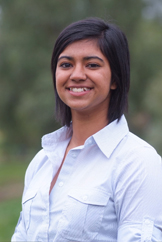 Vrinda Tiwari is a talented student, an accomplished sportswoman and an outstanding all-rounder with a strong social conscience. She was born in Bhopal, India and moved to Australia at the age of three. She received her primary education at Griffith North Public School in Griffith, NSW.
In 2001 Vrinda received a full academic scholarship to attend Presbyterian Ladies' College, Sydney. During her time in the PLC boarding house she developed a strong rapport with people of all ages and backgrounds and was a member of both the Boarders' Committee and the Boarders' Charity Committee. The latter committee fundraised for various causes including World Vision and two preschools PLC runs in East Timor.
In 2002, 2004, 2005 and 2006 she received a significant number of prizes for academic achievement at the annual PLC Speech Days. In 2007 she was School Vice-Captain and Chairperson of the Student Representative Council. Vrinda completed her HSC in 2007 with a UAI of 98.15.
In 2007 she was selected to attend a conference for Women's Leadership at the NSW State Parliament. During her time at PLC Vrinda participated in several academic and co-curricular activities that helped her to develop a range of leadership, teamwork and communication skills. These included the National Rowing Championships as a member of the PLC First VIII and the NSW State Rowing Championships. This demanding sport developed her ability to work within a team and demonstrated her capacity to extend both her mental and physical boundaries.
As well as rowing, Vrinda represented PLC in swimming, cross-country, netball, soccer and tennis. When she finds time to go home to Griffith, she is a member of the Griffith Joggers' Club and the Griffith Triathlon Association.
In 2006 she successfully participated in state and national Model United Nations Assembly competitions. She is also an accomplished debater, part time journalist and budding short-film producer.
She has worked in teams that have raised significant funds for the Guide Dog's Association of Australia, the Breast Cancer Association, an orphanage and abused girls home in Sri Lanka and the Nari-Nari Aboriginal Community in Hay.
In 2005 Vrinda won a Cultural Exchange Scholarship to South Africa for two months. It changed her life. After witnessing millions in poverty, her growing social conscience forged her desire to pursue a career with a humanitarian focus.
Considering her academic, sporting and leadership achievements, service to the community, and ambition to continue to contribute to Australian and international society, Vrinda is a most deserving recipient of a Hawker Scholarship.