Degree: Bachelor of Asian Studies / Law
Institution: Australian National University
In Residence: Burgmann College
Career Goal: International relations with the Department of Foreign Affairs and Trade (while still calling Australia home)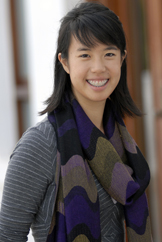 Sue-Lin Wong loves life. She is a natural leader and a proud Australian. She's a remarkable young woman with endless potential and enormous talent and she'll make a positive impression on whoever has the good fortune to make her acquaintance throughout her life.
She completed the last two years of her secondary studies in 2006 at Sydney Girls High with a UAI of 98.6. She was elected as Senior Prefect at Sydney Girls High having only been at the school for 3 terms. In her gap year in 2007, she taught English in Hunan Province in southern China, explored the country to gained a better understand her heritage, learnt Chinese and discovered China, its people and culture.
Although of Chinese heritage, Sue-Lin Wong was born and raised in Australia and until last year couldn't speak Chinese. The complete immersion environment of the high school she attended in China forced her to rapidly learn Chinese so she could communicate with her classmates, roommates, teachers and friends. There were over 3000 Chinese students at the school so she had a lot of opportunities to practice the language.
She was an active participant in school sport, playing netball and water polo and represented her school in knockout netball and water polo in 2005. She has always enjoyed sport because she thinks of it as a microcosm of life. It doesn't matter whether you win or lose, it's about your attitude and sportsmanship.
She played trombone in the school Orchestra, Stage Band and Symphonic Wind Ensemble since Year 7. She was promoted to First Trombone in 2004. She has also completed her AMEB 6th Grade piano.
In 2006 she was awarded her Gold Duke of Edinburgh Award and was the District Finalist for Lions' Youth of the Year.
She loves debating and understanding ideas and policies that shape the foundations of our society. She was first speaker for her school's Debating Firsts in 2006, in the NSW State Debating Squad elect and the school team won Eastside debating in 2005. She won the Eastern Suburbs Public Speaking Competition in 2005 and this inspired her to write a series of speeches for her HSC Extension 2 English - and scored 98%.
In 2006 she was awarded the prestigious Sydney Girls' High School Medal, recognising both her broad academic achievements and her diverse contribution to all facets of school life. Sue-Lin has also studied Latin since Year 8 and has won Gold Medals in the International Latin Exam for the past four years. In 2005 she achieved the Sydney Girls' High Gold Award for Student Recognition recognizing her all-rounded achievements within the school. She won the Wellesley College (USA) Prize for outstanding academic achievement and leadership within the school and community, the P&C prize for First in English Extension and received a distinction average in Mind and Morality, a first year university subject.
This encouraged her to apply for the Comparative Literature Distinction Course run by Charles Sturt University. She was awarded a High Distinction. It was her favourite HSC subject because it constantly encouraged her to explore ideas and concepts that were unusual yet interesting, to think outside the square and challenge everything she had previously assumed.
Her volunteer work is also extensive. She coordinated the Red Cross "Take the Challenge", a program to increase community service and awareness in schools. The highlight of this yearlong initiative was leading the Sydney Children's Hospital's Schools' "Gold Week" which entailed organising two charity "great debates", two talent quests, a "gold" barbeque and a mufti day. All these events raised over $125 000 and they won the 2006 Fundraising Award from the Red Cross.
Sue-Lin was awarded the Professor Marie Bashir Prize for Citizenship in 2006. The prize is awarded to a Year 12 student who has displayed strong characteristics of good citizenship while at school.
She has been a member of Bondi Surf Lifesaving Club (BSLSC) since she was ten. For the past 4 summers, she accumulated over 60 hours of community service every summer by patrolling Bondi Beach. She was Vice-captain of her patrol of 30 volunteers for the 2006/2007 season. She competed for Bondi and her team was the National Champion for the Open Women's Rescue and Resuscitation (R&R) in 2006.
Sue-Lin Wong's motto is 'the more you put into life, the more you get out of it.'