Degree: Bachelor of Laws and Bachelor of Arts
Institution: Australian National University
In Residence: Burgmann College
Career Goal: A role in the public service in Australia or overseas
Education History: Punchbowl Primary School; Scotch Oakburn College, Launceston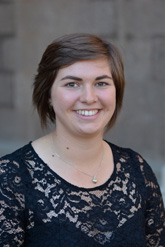 Ms Sophie Jones is from Launceston. She spent much of her childhood on the family farm in the Fingal Valley and the seaside towns of the East Coast of Tasmania. She attended the Punchbowl Primary School and then Scotch Oakburn College (SOC) on an academic scholarship. Her success, selflessness and leadership abilities were recognised in 2014 when Sophie was appointed College Co-Captain.
Sophie Jones is a most impressive young lady. Her intellectual ability and dedication was rewarded with an ATAR of 97.75. Sophie entered Scotch Oakburn in Year 5 and throughout her time at the College, her academic prowess has been recognised with numerous awards. In later years these have included: the Alan Brown Memorial Prize for Character and Academic Effort, runner-up Dux, prizes for Legal Studies and English Studies (where she received the highest possible score), Lodge Scotch College Masonic Prize for Character and Academic Effort and numerous Academic Colours.
Sophie has a very mature approach to her studies and possesses the ability to work independently and collaboratively. She is a self-directed learner, very organised and focused, and extremely conscientious.
Sophie was able to demonstrate her intellect in a creative and practical way at a National level through her involvement in a range of disciplines in the Tournament of Minds, culminating in her team winning the National Final in Applied Technology in 2011.
She was also a National Finalist in two public speaking competitions, The Legacy Junior Public Speaking Award in 2011 and the Rostrum Voice of Youth in 2014. On both occasions she demonstrated her ability to think on her feet and to speak with great eloquence. Such skills were also demonstrated in her successful involvement in various debating competitions.
Sophie won the school Foundation Oratory Award and presented the Anzac Day address at the Launceston Cenotaph in 2013 and 2014.
Sophie's achievement in being selected as a State Finalist in the Lions Youth of the Year in 2014 is a testimony to her all-round ability. The competition is based on academic ability, general knowledge, leadership and community service, sporting and cultural pursuits, personality and public speaking ability.
Successful time management and skill have enabled Sophie to excel on the sporting field. She was a member of the winning state premiership softball team for five consecutive years. She was a passionate member of the last three Scotch Oakburn College productions in lead, supporting and stage crew roles.
Sophie has immersed herself in the College's music program and has been a long serving member of the Senior Choir, Stage and Concert Bands, demonstrating her excellent musical range and willingness to partake in a variety of disciplines. For her efforts she was awarded Colours in Softball, Music and Drama.
Sophie has the skills to relate to people of all ages and she willingly devotes her time and energy to assisting others, whether in her role as College Captain or her student exchanges to Singapore and Timor Leste.
In June 2014, she accepted the challenge of participating in the World's Greatest Shave. With two brave peers, they succeeded in raising over $6,000 for the Leukaemia Foundation. Sophie had her hair shaved to a number three buzz-cut. Her community service involvement has included participation in Clean Up Australia Day, Uniting Care Pancake Day, Giggle Day, AgFest, Red Cross blood donating and ushering at various state concerts and events.
Sophie is an outstanding leader and was awarded the ADF Long Tan Leadership and Teamwork Award in 2012. She takes a genuine interest in the welfare of others and is keen to see them reach their potential. Her personable and caring nature are very endearing qualities that hold her in good stead for those fortunate enough to know her. She has the respect and admiration of her peers who are impressed with her sincerity, diligence and compassion. Sophie was rewarded for the efforts with Colours for Community Service.
In all that she undertakes, Sophie shows initiative and accepts the responsibilities of her leadership roles with maturity and distinction. She is an unassuming young lady with a wealth of potential and is a deserved winner of a C.A.S. Hawker Scholarship.