Hawker Scholar: 2006 – 2008
Degree: Bachelor of Rural Science
Institution: University of New England & in residence at Robb College
Career goal: To act as an agent for change to improve farming practices in Australia and third world countries to make them financially and environmentally sustainable.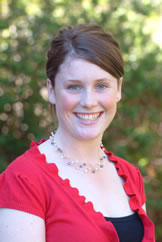 Skye Gabb is from a long line of primary producers in the Western Districts of Victoria. She and her three siblings are the 5th generation on their family property 'Black's Creek'. After attending the local Skipton primary school, Skye spent six years as a boarder at Ballarat Grammar.
She completed her secondary education in 2003 and 'went bush' for a couple of years working as a jillaroo on large cattle stations in northern Australia. She has rolled her swag under the 'thousand star motel' and it was largely her experiences in the pastoral north that influenced her decision to study rural science.
Skye Gabb could have chosen to do almost anything. She is a gifted and hard working student achieving an ENTER score of 99.15. The testimonial provided by Ballarat Grammar is glowing in its praise of her commitment and achievement's at the College. She constantly pushed herself to achieve the best possible outcomes academically, in her 'school-house' work, on the sporting field and in all her extra curricula activities.
Skye Gabb is an outstanding all round student. By any measure she is a high achiever with compassion and a social conscience. Skye is a talented artist. Her preferred medium is textiles. She plays the flute and is an avid skier, hiker, national rower, state level hockey player, state champion touch footballer and has also represented Ballarat Grammar in cross country, athelitics, basketball and soccer.
Skye was presented with her Gold Duke of Edinburgh Award by the Governor of Victoria His Excellency John Landy and has received numerous school colours for her sporting and academic achievements. Skye was Vice-Captain of Ballarat Grammar in 2003, a School Guardian, Outdoor Education Leader and School Endeavour Award winner in 1998 and 2000 for her all round excellence and enthusiasm.
Her service record is outstanding. Skye participated in the Lions Youth of the Year, winning the public speaking award in 2001 and 2003. She was Head of the Round Square Service Committee, and attended the International Round Square Conference in Alice Springs in 2001. Skye is a recipient of the School Service Award for service to the community. Skye participated in, and in some instances, organized fundraisers including the local Red Shield Appeal and Australia's Biggest Morning Tea. Skye is a recipient of a Centenary Medal and participated in The Peoplescape at Parliament House in Canberra in 2001.
Skye is an outstanding young Australian who has clearly demonstrated by her actions and commitment that she will make a difference. Skye Gabb is a most deserving winner of a Hawker Scholarship.