Degree: Bachelor of Arts & Bachelor of Laws
Institution: Australian National University
In Residence: Burgmann College
Career Goal: To pursue a career, which will make a difference and the world a better place.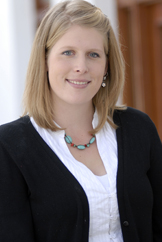 Sarah May was born in Tamworth NSW. She attended the local primary school. Her family then moved to the NW corner of Australia to Exmouth. Her parents were both doctors. Sarah has memories of the incredible heat, emus picking over their barren front lawn, watching a turtle come ashore and lay a hundred eggs, sheltering in the district hospital under the menace of an approaching cyclone, snorkelling off a boat and watching in fear and awe as a whale shark loomed into view, Without a doubt, this is where Sarah's love for Australia's unique environment was born.
She also attended the Tom Price Primary School and then returned to Tamworth on an academic scholarship for her secondary education. She attended the Tamworth Anglican College from 2002 to 2007. She graduated from Calrossy Campus at Tamworth Anglican College in 2007 with a TER of 98.05. In 2008, Sarah took a GAP year and worked at St Margaret's School in Edinburgh
Sarah is a dynamic and articulate young woman possessing qualities of leadership and strength of character which made her popular and respected within the Calrossy Campus community. She is considerate, enthusiastic and possesses a keen sense of humour. Sarah approached her secondary studies with commitment and determination. Her academic results have been exemplary and she was awarded numerous prizes in English, French, Geography and Modern History for her endeavours.
Outside the College, Sarah has been acknowledged by awards of high distinction from the Australian Geographic Society and the NSW Geography Teacher's Association.
Public speaking and oratory skill have also been areas of strength. Her quick wittedness was an invaluable asset to the College's Mock Trial Team along with AHISS and Eisteddfod Debating Teams. In 2006 Sarah was recognised with a prestigious Leadership Award from Southern Cross University.
Growing up, Sarah never dreamt of being the stereotypical lawyer-type – and she still doesn't. Through a rich variety of circumstances, she has had some pivotal opportunities to witness and experience the effects of social advantage, disadvantage and injustice in Australia and abroad.
She has been confronted by the results of failed law on individuals, communities and the environment and has seen the struggle for change.
She has had the chance to reflect on the capacity of law to empower individuals, lift communities and protect the environment. She believes she is able to apply herself, build trust in others and empower them to achieve more than they thought possible. Her goal is to study law and appreciate how it shapes the world, understand why it fails and to apply herself to raising it to its potential.
In 2004, the May family lived for 12 months in the remote extremes of British Columbia in the tiny settlement of Bella Coola where they were the cultural minority to the Native Indian Nuxalk community. Sarah became more aware of the importance of the natural environment and how people rely on it for their custom, culture and livelihood. In Bella Coola, logging, hunting and eco-tourism held the community together.
For three months in 2006, on a self-funded language exchange, Sarah lived with a French family in a disadvantaged area in the suburbs of northern Paris. The immersion opened her eyes to other ways of living and made her emotionally resilient.
Of all her senior year results she is particularly proud of her band 6 in HSC French Continuers, a 2-unit course studied independently via correspondence. The school was unable to provide a teacher.
She was co-head of the charity committee, a year 12 Leader and a charity prefect. Sarah was often involved in public speaking at assemblies and other school events and she took on the role of encouraging and mentoring her peers.
She held a part-time job for the last 2 ½ years of school. In her spare time she listens to a lot of music and in 2008 she was picked up by UK events-listing website 'Remote Goat' to be a voluntary reviewer of music gigs and theatre. She has reviewed for Splatt, an ABC Kids website.
In 2006 with a friend, she organised, trained for, planned and completed a gruelling 6-day walk in the wilds of Tasmania. Sarah achieved a Silver Duke of Edinburgh Award in 2007 and is working towards her Gold Award.
In 2008 she volunteered as a carer for the Sony Children's Holiday Camp. She cared for a severely disabled wheelchair bound 8-year old boy 24 hours a day for 4 days, to give his parents some much-needed respite. Her strong social conscience has meant that she has rocked the boat at times but there is little doubt that she will indeed make a difference. The world needs more young people like Sarah May.