Degree: Bachelor of Law / International Relations
Institution: University of Adelaide
In Residence: St Mark's College
Career Goal: Her interest in international relations, the law and indigenous affairs is a first step into politics, working in the area of policy development.
Education History: Kormilda College (NT) 2006 – 2007; Walford Anglican School for Girls (SA) 2008 – 10; Glebe House School (UK) GAP Year 2011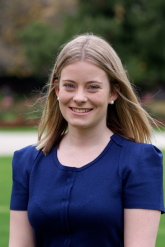 Sarah Dowd is an articulate, intelligent, academically gifted, widely travelled young Australian who will make a difference to the lives of those she engages with in coming years.
Sarah was born in South Australia and at an early age moved to the Northern Territory. She studied at Kormilda College in Darwin and completed her secondary schooling at Walford Anglican School for Girls in Adelaide in 2010. She was awarded the top prizes for Mathematics and Nutrition at Walford and the award for the student who showed tenacity and persistence in scholarship during her senior year. Her ATAR is 99.25.
Sarah was captain of the Walford softball team and represented the school in swimming, water polo, netball and triathlon. She was a class representative and trained as a peer leader.
Involvement with the northern Australia's multicultural population of European, Asian and Australian Aboriginal people has largely shaped Sarah's life and her decision to study law and international relations at the University of Adelaide. She has first hand experience in a large number of Aboriginal communities including Daly River, Yuendumu, Docker River, Doomadgee, Bamaga, Lockhart River, Fitzroy Crossing and Halls Creek. She taught swimming and assisted with young peoples camps. Sarah believes it is time for change and that Aboriginal Australians deserve equal opportunities.
She has competed at state, national and international levels in swimming, Surf and Royal Life Saving – and she plays Australian Rules Football. Sarah has driven the Len Beadell surveyed Gunbarrel Highway, visited the Gibson and Simpson deserts and Cape Yorke.
Her overseas travel includes Western Europe, New York, Ireland and Albania. She spent 2011 working in the UK at Glebe House School in Norfolk. Headmaster John Crofts says of Sarah that 'she has been one of the most outstanding gap students I have worked with.'
Sarah is a highly motivated young woman who is driven to follow her dreams. She has developed a high level of independence as a result of her boarding school, travel and UK GAP year experiences.
Ms Sarah Dowd is an outstanding young all round Australian with a developing social conscience. She is a deserved winner of a C.A.S. Hawker Scholarship.