Institution: Australian National University
In Residence: Burgmann College
Career Goal: Contribute to medical research to address the issues of an ageing Australia
Education History: Presbyterian Ladies' College Burwood VIC. ANU, Canberra ACT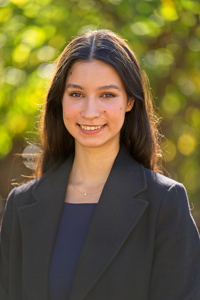 Born in Bangkok, Sai Campbell grew up in South-East Asia and Papua New Guinea. She now calls Australia home and last year completed her first year of study at ANU.
Sai is an exceptional young woman of the highest calibre with great interpersonal and leadership skills. Given her exceptional personal qualities, dedicated achievements in the classroom, on the sporting field and in community service, as well as a demonstrated desire to give back to society at all levels, Sai came highly recommended by her PLC referees.
Her achievements to date have been outstanding – and she plays the bagpipes.
Her keen interest in environmental causes inspired her to frequently volunteer for projects with the Australian Conservation Foundation. As the PLC Environment Captain, Sai organised the largest Clean Up Australia Day campaign in the history of the school.
Sai was also a school prefect and played a key part in starting the Social Justice Club which provided a forum for discussing current social issues and creating awareness for volunteering opportunities so students could contribute meaningfully in their local community. She was awarded School Colours in hockey, softball, debating, music and athletics. She was also awarded numerous scholarships for academic achievement and her contributions to the school community.
Throughout her time at PLC, Sai volunteered as a tutor for Sudanese refugees. She currently works with the St. Vincent de Paul Society in Canberra as an English tutor for refugee and migrant children. Her passion for science and conservation inspired her to work at the Melbourne Museum during school holidays where she assisted in creating an online database of the museum's insect collection.
Her interest in medical research led to her sitting for the Australian Biology Olympiad. She attended an intensive summer camp at ANU and was selected to represent Australia at the International Biology Olympiad in Iran as one of the four best biology students in the country.
After graduating as PLC's Dux in 2018 with an ATAR of 99.95, Sai was one of three Australians to be awarded a full scholarship to pursue medical research at the Weizmann Institute of Science in Israel as a Bessie F. Lawrence Scholar.
Sai is committed to conducting research important to an ageing Australia, involving a blood cancer found exclusively in older individuals. Inspired by her time in Israel, she contacted researchers at the Walter and Eliza Hall Institute and was awarded a scholarship to conduct research in the blood cancers division.
Although her current interests gravitate towards cancer and neurodegenerative diseases, Sai believes that pursuing diverse projects is integral to developing an adaptive and creative mindset. She's currently working a project with a lab at ANU developing molecules that target the Zika virus.
She commenced her studies at the ANU in 2019 and has engaged in a number of activities on campus and in the wider community. She was elected a student representative on the Joint College of Science Committee, Vice-President of the Ph.B. Society and selected for the Chemistry Ambassador Program to pursue an advanced course at the University of Edinburgh. She also attended a Science and Technology Leadership Forum in Dubai. Her goal at ANU is to foster a culture of innovation and scientific excellence amongst undergraduate students.
Sai wants to contribute to medical research that will address the issues of a future, ageing Australia.  She hopes to build a research culture that is both innovative and informs policy.
She is an outstanding young woman and a deserved winner of a C.A.S. Hawker Scholarship.