Hawker Scholar: 2006 – 2008
Degree: Bachelor of Law & International Relations
Institution: University of Adelaide & in residence at St Mark's College
Career goal: A career in international politics as it impacts on the Australian political scene.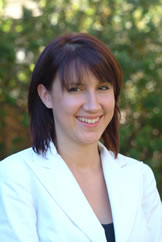 Rhiannon Pulford was born at Nhulunbuy in the Gulf of Carpentaria in the Northern Territory and was educated Ross Park Primary in Alice Springs, Wagaman Primary School and from 2000 to 2004 at Kormilda College in Darwin. Rhiannon Tertiary Entrance Rank (TER) when she graduated in 2004 was an outstanding 99.8.
During her gap year Rhiannon's work has included the Administrative Assistant for the Police, Fire and Emergency Services Training College, Data Input Officer for the Criminal History and Warrants Unit and Administrative Assistant for the Office of the Leader of the Opposition.
Rhiannon is an outstanding student. She was Kormilda College School Captain in 2004 and has been the highest academic achiever at the College for the past five years. Rhiannon is a critical and creative thinker and a recognized leader.
As well as her outstanding academic success, Rhiannon has been actively involved in numerous extra curricula activities including being a member of the Darwin City Youth Advisory Group, being the NT Representative in the UN Model United Nations Conference, MC of the NT Young Achievement Australia launch, Captain of the Tournament of the Minds team, achieving a HD in the Australian Chemistry Quiz, participating in the Toastmaster's Youth Leadership program, leading Kormilda College to the highest NT school fund raiser for World Vision and in 2003 was voted the NT Young Business Person of the Year.
By any measure, Rhiannon is a high achiever. Her exposure to local, NT and international politics through the Darwin City Council, the last NT elections and the United Nations organizations she has been involved with in recent years, has fired her political passion. Rhiannon has the intellect, energy, capacity and ability to achieve whatever she determines to do in the coming years.
Australia's needs more young people with the ideals, capability and commitment of Hawker Scholar Ms Rhiannon Pulford.