Degrees: Bachelor of Political Science, Philosophy & Economics and Bachelor of International Studies
Institution: Australian National University
In Residence: Burgmann College
Career Goal: Policy development in the Australian Diplomatic Service and to be a leader and driver of change in Australia's role as a key Pacific power in the new Asia.
Education History: Clayfield College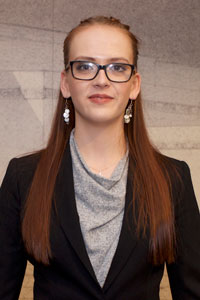 "Be happy, laugh often, work hard and give back to the community," is the formula for a successful life according to Kathy Bishop, the Principal at Clayfield College. Ms Olivia Turner believes that as she has grown up in a privileged life, she needs to 'give back'.
She believes she is obligated to use her advantages for the betterment of less fortunate individuals and the advancement of the local and global community. As an Australian woman, supported by a nurturing home and school environment, she has been offered opportunities that have taken her around the world and given her invaluable skills and experiences.
It is her passion to empower and enable others, particularly young women in both Australia and abroad. Her career goals include working in the Australian Diplomatic Service or other areas of the public or political service, developing policy to not only support those in Australia, but also to be a leader and driver of change in Australia's growing role as a key Pacific power in the new Asia and globalized economy.
Olivia graduated from Clayfield in 2016 with an ATAR of 98.2. She spent a gap year as an exchange student in China. Her experience in China was life changing. It not only equipped her with language fluency to help achieve her career goals, it provided her with a deeper understanding of both Chinese and Australian culture. For the first time in her life, she experienced life as a foreigner and a minority – an outsider.
This was a challenging and humbling experience. It gave Olivia a small insight into the daily struggles faced by many people coming to make Australia their home.
Olivia has been a scout since she was eight years old. She has achieved the highest honours of organisation - the Australian Scout Medallion and the Queen's Scout Award and has held leadership positions including Patrol Leader and Unit Council Chairman.
Olivia has always been a very driven and goal-oriented person. From 2012 to 2016 she achieved numerous academic awards as well as distinctions in various extra-curricular exams.
She consistently attained high grades across all subjects. She was selected to participate in Cambridge University's two-week summer school programme with students from around the world. In her final year at Clayfield Olivia was awarded the Michael Forster Memorial Prize for 'ethical behaviour and school spirit'.
Olivia was also involved in a range of extracurricular activities. She has a passion for debating and represented Clayfield in the Queensland Debating Union for five years. She also participated in the elite Brisbane Girls Debating Competition for two years and served as a junior coach for three years.
Debating gave her many skills that she believes will be of value to her future studies and career including critical thinking and being able to develop and articulate ideas in response to differing viewpoints. In 2016 she was the College Debating Captain.
Olivia also participated in other activities within the college community including tennis, cross-country and choir - and she also worked part time.
During her last two years at College, Olivia undertook additional study of a Certificate III of Christian Ministry and Theology alongside her six subjects and was a board member for the school's branch of the 'Inter-School Christian Fellowship' organisation.
She has always been guided by a strong Christian faith and loved the opportunity this role gave her to act as a pastoral mentor and role model for her fellow students.
There is no doubt that through her dedication to her studies and her determination to actively 'give back' to the broader community, Olivia will make a significant contribution in the field of public policy in Australia and around the world in the future.
Ms. Olivia Turner is a deserved winner of a 2018 C.A.S. Hawker Scholarship.