Hawker Scholar: 2003 – 2005
Degree: Bachelor of Arts/Law (International Studies)
Institution: Australian National University & in residence at Burgmann College
Goal: to secure a position with the Department of Foreign Affairs and Trade in the diplomatic service.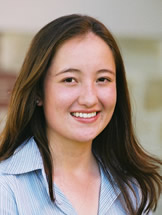 Lorraine Ingham was educated at the New England Girls' School in Armidale NSW. She completed her secondary education in 2002 and achieved a Universities Admission Index of 98.15.
Lorraine was born in Hong Kong and has lived in Australia since she was three years old. For the past 13 years has called Moree in NSW home. Lorraine is a highly intelligent student with broad interests and well-developed leadership skills. She has finely honed analytical skills and is able to construct thoughtful and coherent solutions and responses to a wide range of issues.
Lorraine received school awards in most of the subjects she studied and received the English, Biology and Modern History prizes at the final Senior Speech day at the New England Girls' School in 2002. She was runner up in the Zonta Women in Public Affairs Award and has been involved in the Mock Trial Competition, Model United Nations Assembly and the Senior Commonwealth Debating Competition.
Lorraine is an outstanding all rounder. She was NEGS Senior Captain in her final year and was an active team member in a number of sports including hockey, netball and touch football. Lorraine is also interested in drama and represented NEGS as a public speaker. She was involved in Law Week Schools in Parliament and gained a high distinction in Grade 6 Speech and Drama.
She has been an active community worker, fund raising for the RFDS, UNICEF and the Jean Colvin Cancer Hospital.
Lorraine is studying Arts/Law (International Relations) at the Australian National University and is in residence at Burgmann College. She intends to pursue a career with the Department of Foreign Affairs and Trade.
Lorraine Ingham is a high achiever with commitment to the broader community and has clearly demonstrated the attributes of a Charles Allan Seymour Hawker Scholar.