Hawker Scholar: 2004 – 2006
Degree: Bachelor of Agriculture
Institution: University of Adelaide & in residence at Roseworthy Campus
Career goal: to make a major contribution to regional and rural Australia through active participation in sustainable primary production specializing in salt land agronomy.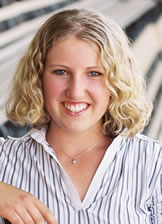 Kaylene Nuske was educated at the Tintinara Area School and the Urrbrae Agricultural High School in Adelaide. She completed her secondary education in 2003 as Dux of Urrbrae with a Tertiary Entrance Rank of 93.3.
Kaylene is a self-confessed country girl. She is the 3rd generation on her family's farming property is near Tintinara, 220 kilometres south of Adelaide in South Australia.
Kaylene has excelled academically throughout her secondary education. She demonstrated a thoroughness and attention to detail and her hard work has been rewarded with exceptionally good final year results.
Kaylene has made significant contributions to the broader community and is a regular participant in the World Vision 40 Hour Famine Appeal.
Kaylene has always been passionate about the importance of agriculture to Australia and intends to make a major contribution to the sustainable future of this important industry.
She has witnessed first hand the devastating impact of salinity on the landscape and has chosen to study Salt land Agronomy at the Roseworthy.
By furthering her knowledge of this subject, she believes she will be well equipped to contribute to solving a serious problem facing an increasing percentage of Australia's farming land.
Australia's rural sector needs more young people with the ideals and committment of Kaylene Nuske.