Hawker Scholar: 2002 – 2004
Degree: Bachelor of International Studies
Institution: University of Adelaide & in residence at St. Mark's College
Career Goals: A position with the Department of Foreign Affairs and Trade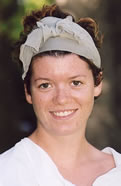 Kate Seward is from Geelong, the eldest of four children. She entered The Geelong College in 1993 and completed her studies in 2000. Her subjects included English, Literature, International Studies, French, History and Legal Studies. She was School Vice captain and President of the Student Representative Council in 2000.
Kate was awarded a number of academic prizes and the inaugural Morrison Prize for outstanding ability and overall service to the College in her final year at The Geelong College. Kate's tertiary entrance score at the completion of her secondary studies was 98.45.
Kate is an active and very successful sports person, public speaker and debater.
She was Captain of Debating and the recipient of the Stanley Calvert Prize for Debating and Public Speaking. Kate is a past district winner and regional finalist in the Lions Club Youth of the Year Quest and a regional finalist in the Rostrum Voice of Youth Public Speaking Awards.
Kate represented Victoria at both the United Nations Youth Conference in 1998 and the National Youth Parliament in 1999. She also in 1999 was awarded the Soroptimist International of Geelong 'Youth Leadership Award' and was selected as a member of The Age 'Leaders of Tomorrow Club' as part of the Age newspapers Millenium Series. In 2000 Kate also received the Royal Commonwealth Society Student Fellowship.
In 1998 Kate spent 6 months in France on a student exchange and has worked in England and Ireland and traveled throughout Europe and Japan. Her career goal is to enter the Department of Foreign Affairs and Trade.
Kate is now in residence at St. Mark's College and is studying at the University of Adelaide where she is enrolled in the Bachelor of International Studies Degree.
Kate has already displayed a strong commitment to the ideals upon which the Hawker Scholarship is founded.
She has an inquiring mind, she sets and achieves personal goals and seeks through her efforts to better herself and as a result to make Australia a better country.
Kate is a very worthy recipient of a 2002 Hawker Scholarship. She joins 34 other young Australians who since 1991 have been awarded this scholarship that rightly is becoming known as Australia's 'Rhodes'.