Hawker Scholar: 2005 - 2007
Degree: Bachelor International Studies/Law
Institution: University of Adelaide & in residence at St Mark's College
Career goal: To pursue a career involving community issues and social justice in Australia or overseas.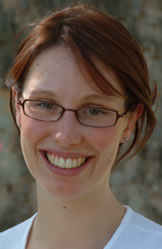 Kate McFarlane has a strong social conscience and is a passionate people person who believes "good leaders are good listeners who welcome input from others before making a decision."
Kate has a farming background and grew up in regional Victoria. Her parents nurtured a strong sense of social awareness and instilled in her an understanding of her responsibilities to the community. As a result, Kate has been actively involved in a range of community based volunteer organisations including the Ballarat Special School, the local kindergarden and Anglicare - where she assisted by caring for the elderly.
These and other activities and experiences have resulted in Kate developing a keen interest in current affairs and politics, social issues and an understanding of Australia's place in the world.
Kate studied at Ballarat Grammar and was actively involved in most facets of school life. In her final year in 2004, she held the positions of School Vice-Captain, House Co-Captain and Co-Captain of the International Understanding and Democracy Committee.
Kate has developed a passionate interest in the plight and treatment of asylum seekers and refugees in Australia. She is involved with the Ballarat Refugee Support Network and A Just Australia and also established a letter writing program between grade six students and children detained on Nauru. Kate has also been involved with the Edmund Rice Centre in Melbourne, an organisation that works to address the causes of poverty and inequity within Australian society.
In 2002, Kate spent three months on a cultural and language exchange in Dijon in France. While in Europe, she represented Ballarat Grammar at the International Round Square Conference at Salem in Germany.
Kate's commitment to and interest in social issues and the global community and her striving to excel in the areas of personal integrity and moral leadership would have been understood and applauded by Charles Hawker.