Hawker Scholar: 2005 – 2007
Degree: Bachelor of Arts/Law
Institution: Australian National University & in residence at Burgmann College
Career goal: To pursue a career with the Department of Foreign Affairs.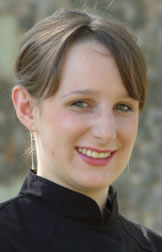 Kari Griffiths is a big picture person with a strong social conscience. She was born and spent her early childhood in Norway, moving to Australia with her family when she was eight years of age. Kari is another Hawker Scholar from the Glenunga International High School in Adelaide. She was School Captain and completed her very successful year twelve studies in 2004.
During her time at Glenunga International High, Kari was actively involved in all aspects of school life and was responsible for maintaining a good working relationship between the student representative council and the teaching staff. It was in this role she learnt the importance of adaptability, negotiation and compromise and feels she'd now be comfortable working with detainees in the Baxter detention centre and Immigration Affairs Minster, Hon Amanda Vanstone.
In years eleven and twelve, as an active member of the United Nations Youth Association, she represented South Australia in 2002 at the inaugural Evett Trophy competition and again in 2003 at the United Nations Youth Council in Perth (WA).
Her work with the Council introduced her to issues surrounding the Kyoto protocol, the International Criminal Court and the International Monetary Fund.
Kari was also a member of the Economic Youth Advisory Council that examined options and made recommendations to the State Government about encouraging the retention and return of young people to South Australia. As a result of those experiences, Kari believes she is living in a society where young people are encouraged to express an opinion and those opinions are listened to.
By any measure Kari Griffiths is a high achiever, an outstanding student and is already a major contributor to society. She will be studying Arts / Law at ANU and learning Arabic. She believes Australia needs to be a bridge between Islam and the West.
Kari believes being awarded a Hawker Scholarship will assist her to make a significant contribution to events that will help shape Australia's future.