Hawker Scholar: 2004 - 2005
Degree: Bachelor of Arts/Law
Institution: Australian National University & in residence at Burgmann College
Career goal: To pursue a career in public service, particularly in the area of policy determination and implementation.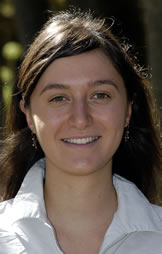 Jessica Allen was educated at the Abbotsleigh Girls School in Sydney. She completed her secondary education in 2002 and achieved a Universities Admission Index of 97.5.
In 2002 Jessica was Head Prefect at Abbotsleigh and won an Academic Honour Prize, the Special Senior Prefect Prize and the Zonta Young Woman in Public Affairs Award.
She is an outstanding student. She is competent, articulate, composed and enthusiastic. She has a well balanced approach to study and life skills. She is meticulous in the preparation and execution of tasks and demonstrated strong leadership while at Abbotsleigh.
Jessica is a creative thinker and an able public speaker who can engage an audience well. She has absolute integrity and is fair and democratic.
She represented Abbotsleigh in softball, hockey, tennis and soccer, gained a bronze medallion in lifesaving and was involved with the Interact Club as Vice President.
Jessica has a passion for drama and has played many leading roles. She is a capable debater and is committed to the environment. As President of the Environment Club in year 11, she used her leadership skills to inspire others and assisted in implementing a recycling program and raising awareness of the use of solar power panels at the school.
She has provided volunteer work at a school in Peru and has raised funds for a hospital in Ethiopia.
Jessica is currently a second year Arts/Law student at ANU. In 2003 she was the First Year Representative for the Law Students Society (LSS) and edited the LSS Alternative Law Handbook. In 2004 she is the LSS Administration Vice-President.