2013
Ms Georgina Morphett
Degrees: Bachelor of Laws / Bachelor of Arts
Institution: University of Adelaide. Transferred to Australian National University (ANU) mid 2013
In Residence: St Mark's College. Transferred to Burgmann College, Canberra mid 2013
Career Goal: To advocate for human rights
Education History: Kadina Memorial High School 2008 - 2012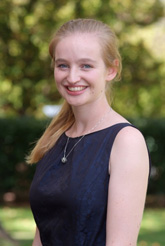 Georgina Morphett is a high achiever with a social conscience, an advocate for youth and has a passion for human rights. She is a country girl from a farming property near Tickera on upper Yorke Peninsula in South Australia.
Her primary education was at Kalori Catholic School Wallaroo and her secondary education at Kadina Memorial High School. She was an outstanding student academically, a student leader and significant contributor to the wider community. Her raw ATAR was 95.7 before bonus points.
She was President of the SRC, is a keen and competent pianist, the holder of the Royal Life Saving Society's Award of Distinction – the highest level of Swimming and Lifesaving in Australia.
Georgina has organized fund raising days to support the Rainbow Orphanage in Nepal, was a member of the School Governing Council and is strong advocate for issues of concern to youth. (NB hosted Premier Weatherill at Kadina High – met before).
In 2011 Georgina was appointed to the SA Government's Minister's Youth Council for a three-year term. She is now the Deputy Chair. In December 2012, as the only SA representative, Georgina was appointed as one of ten members of the Federal Government's Australian Youth Forum Steering Committee. She is working with Minister Peter Garrett to promote and stimulate youth engagement and she represents the Committee at various Australian youth events as well as working on Federal Youth Policy.
She has been involved with the SA Youth Parliament in 2011 and 2012. Her team's bill, concerning equality for rural youth, passed both houses of the Youth
Parliament - and is due to be tabled and discussed in the State Parliament. She is a current member of the Youth Affairs Council of South Australia.
Georgina does a lot of swimming. She is a qualified swimming instructor and holds a Royal Lifesaving Instructor qualification and Austswim Teacher of Swimming and Water Safety licence. She has volunteered as a trainee examiner and taught at the local swimming centre and for DECS, the Royal Life Saving Society and Vacswim.
She plays netball and is a state and nationally competitive sailor. She has worked back stage and helped with costume construction at the State Opera of SA.
Georgina has had work experience with the Red Cross. She assisted in the International Humanitarian Law department, where she helped organize the annual 'Even Wars Have Laws' course. That experience affirmed Georgina desire to work in the human rights area in the future.
She is a remarkable and talented young person with vision and a commitment to improving the lives of many.
Georgina Morphett has transferred from University of Adelaide / St Mark's College to Australian National University (ANU) /Burgmann College in Canberra. Georgina will continue to study Arts / Law at ANU and take up residency at Burgmann College from Semester 2, 2013