Hawker Scholar: 2000 - 2003
Degrees: Bachelor of Law ,Bachelor of Science
Institution: University of Adelaide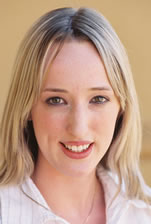 Faye was born in England and successfully completed her secondary studies in 1999 at Bethesda Christian College in Adelaide. Her subjects included Mathematics 1 & 2, Physics, Chemistry and English Studies.
Faye was College Vice-Captain and was actively involved in many sporting activities. She represented the college in athletics, swimming and basketball and was the Most Outstanding Senior Girl trophy winner for achievement in school and inter-school sports in her final year.
Faye is a resident at St. Mark's College in Adelaide and is enrolled at the University of Adelaide in Bachelor of Law and Bachelor of Science Degrees.
Faye has already displayed a strong commitment to the ideals upon which the Hawker Scholarship is founded. Faye has an inquiring mind and seeks through her efforts to better herself and as a result to make Australia a better country.
Faye has already indicated a keen interest in the workings of the State and Australian Parliaments. At the age of twelve, she participated in the inaugural YMCA State Youth Parliament and subsequently attended the National Youth Parliament in 1997.
In 1998 Faye became a member of the State Youth Parliament Taskforce. She saw this as an opportunity to share with other young people her experiences in civic education and to assist them to discover the benefits of active citizenship. As a result of those efforts, Faye received the Commonwealth Youth Services Award for the Asia Pacific Region.
Her other achievements include being selected to represent Australia on two occasions at the Global Young Leaders Conference in Washington DC in 1999 and also at the World Summit of Children held in San Francisco.
Faye is a member of the Executive Organising Committee of the Young General Assembly and is also actively involved with the Youth Council of South Australia.