Degree: Bachelor of Economics / Bachelor of Laws
Institution: Australian National University
In Residence: Burgmann College
Career Goal: To pursue a career in the public service and to be involved in policy formation and advocacy
Education History: Calrossy Anglican School 2005 - 2010; ATAR 99.3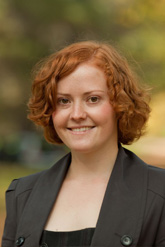 With a rural upbringing, Miss Emma Greenland is a charming, intelligent and well-mannered young lady who communicates well with both peers and those in authority. The Greenland family are primary producers near Willow Tree on the NW slopes of NSW.
Miss Greenland's primary education was at Quirindi however the three hours on the bus each day resulted in her enrolling at Calrossy Anglican School in Tamworth for her secondary education.
Academically Miss Greenland is an exceptional student. She completed year 11 maths in year 10 and did the HSC course in year 11 achieving outstanding results. In 2009 Miss Greenland was 1st placed in her electives including Modern History, Economics, Chemistry and Biology. In her HSC year in 2010, Ms Greenland was awarded academic excellence in Advanced English, placed first in all of her year 12 subjects and was Dux of Calrossy School.
She is politically aware and is enthralled with the political process. She believes policy development is fundamental to improving living standards and making a more egalitarian society where the rights of the individual are cherished.
Miss Greenland has demonstrated superior leadership skills as an integral member of the Calrossy debating teams organising delegating and assisting and encouraging other team members. She has been involved in Mock Trail Competitions and won the Regional Lions Youth of the Year Quest and Public Speaking competitions. She has been involved with the Model United Nations Assembly and YMCA Youth Parliament. She has also tirelessly assisted with the care of disabled children to provide respite for families at the Sony Disabled Children's Holiday Camp.
Miss Greenland is a truly exceptional person who is focussed, astute and articulate and is determined to make the most of her very fine attributes.
Miss Emma Greenland is an intelligent, motivated, talented and compassionate person. All are attributes Charles Alan Seymour Hawker would have recognised, approved of and greatly appreciated.