Degree: Bachelor of Law Bachelor of Development Studies
Institution: University of Adelaide
In Residence: St Mark's College
Career Goal: To work with an International organisation like the World Bank or the UN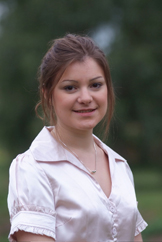 Eleni Watts is an exceptional student. Her achievements are many and at the highest level. She is a communicator and thinker. She will reach great heights and do many amazing things in her life.
Here academic performance at Walford Anglican School for Girls in Adelaide is punctuated with outstanding results and numerous awards. Her TER on completion of her secondary studies in 2007 was 99.7.
Her passion as a communicator emerged at an early age when she competed in the South Australian Junior Orator Competition in 2000 and 2001, winning the State Final in 2001. Her fascination with ideas and their communication has shaped both her curricular and extra-curricular choices and achievements throughout her education.
Since 2002 she have been actively involved in the Tournament of Minds as both a team member and later a team facilitator. She was a member of the Walford Maths Engineering Team which won State Honours in 2005 and the Walford Social Sciences Team which won the State Title in 2002, 2003, and 2004.
In addition, her Walford Social Sciences Team claimed the Australasian National Title in Perth in 2004. This experience gave her insight into the importance of teamwork, communication and abstract thinking in the process of problem solving.
However it's been debating in which she has excelled. She was actively involved in Walford's interschool debating program for eight years, as both a team member and a coach. Eleni competed in four Grand Finals in the South Australian Schools Debating Competition. In recognition of this involvement she was selected as Captain of Debating at Walford and awarded with the school's highest honour, a Walford 'Blue' for her commitment to debating.
She was also chosen to represent South Australia at the National Schools Debating Championships as captain of the South Australian Schools Debating Team in 2006 and 2007. This experience fostered her interest in and deeply enhanced her understanding of Australian politics and society, and reinforced her beliefs about the importance of communication.
In 2006, she was one of two members of the Walford team which won the South Australian United Nations Youth Association Boutros Ghali Shield. She received the award for the best speaker in that competition.
She was a member of a successful Walford Mock Trials Team in 2006 and represented Walford as a Barrister in the Bond University High Schools Mooting Competition in 2007 and won an award for outstanding performance at a State Level.
Eleni's volunteer time includes work at the Mary Magdalene Centre in Adelaide; Resthaven Nursing Homes; MS Society Musical Theatre Fundraisers, the Bone Growth Foundation; the Cancer Council's Relay for Life in 2005 and 2006; as well as raising money through a plethora of fundraisers for a variety of local charities and international organizations, including World Vision, Ryder Cheshire Foundation (India) and the Red Cross.
She loves working with people, and community service has given her the opportunity to work directly with individuals in need as well as being a catalyst for change through financial and practical assistance. Eleni hopes that her studies have equipped her with the skills to formulate policies and programs that assist in achieving equity and justice in communities both in Australia and overseas.
In looking at his life story, the two striking features of Charles Hawker's character which Eleni admires are his resilience and his passion for ideas which he translated into powerful advocacy for those ideas. It was these things that drew her to express her interest in becoming a Charles Hawker Scholar.