Hawker Scholar: 2003 – 2005
Degree: Bachelor of Arts/Law
Institution: Australian National University & in residence at Burgmann College
Goal: to pursue interests in human rights and international relations working with the Department of Foreign Affairs or as a member of Federal Parliament.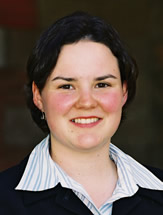 Carolyn Gill was educated at the Pymble Public School and Abbotsleigh Girls School in Sydney. She completed her secondary education in 2002 and achieved a Universities Admission Index of 99.05.
In 2002 Carolyn achieved her Queen Scout and Gold Duke of Edinburgh Awards. She sings and plays the clarinet and has traveled to England, Europe and the US with a number of school and youth orchestras.
She played a significant role in raising $18,000.00 for the Sir David Martin Foundation which supports disturbed and disadvantaged young people, and represented Australia at the Global Leaders Conference in Washington DC and New York in 2001.
Academically Carolyn can be best described as a high achiever winning the NSW Premier's Award for Excellence in the 2002 HSC.
When Carolyn isn't representing Australia, raising money for charity or studying, she plays tennis, hockey, cricket, netball and touch football.
Carolyn also isn't afraid of the grease paint and bright lights and has tramped the boards in a range of school musicals and drama productions – including Sound of Music, Fiddler on the Roof, Man of La Mancha, My Fair Lady and Romeo and Juliet.
Her service to the community is outstanding. She is a puppy raiser for the NSW Guide Dog Association and volunteer for St Johns and the Royal Lifesaving Association. She is a regular Red Cross blood donor, has participated in various door knock appeals and World Vision 40 hour famines and rolls her sleeves up for Meals on Wheels during Christmas holidays.
She is an accomplished debater and the recipient of the 1999 Girl Guides BP Award. Carolyn understands the meaning of community service – and has given freely of her time to make the lives of others more fulfilling and meaningful. Her work experience with the Redfern office of the Sydney Regional Aboriginal Corporation Legal Service assisted in her decision to follow a career in law.
Carolyn is studying Arts/Law at the Australian National University and is in residence at Burgmann College. She hopes her studies will lead her to a career in human rights, international relations or federal politics.
Carolyn Gill has already clearly displayed a strong commitment to the ideals upon which the Charles Hawker Scholarship is founded.
She is indeed an outstanding young Australian and a worthy Hawker Scholarship recipient.