Degree: Bachelor of Arts / Bachelor Asian Studies
Institution: Australian National University
In Residence: Burgmann College
Career Goal: To pursue a career in the Foreign Affairs and Defence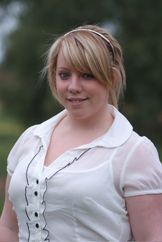 Ashley Jenkins strives to achieve her best in everything she does. She graduated from the Penrith Selective High School in Sydney in 2006 with a UAI score of 91.6. She is an outstanding all rounder in both her studies and extra curricular activities.
During her secondary education she participated in a range of musical activities, including the school choir, selective vocal ensembles and also as a soloist at a local and state level. She was a member of the Sydney Public School State Ensemble and has performed at the Sydney Opera House on a number of occasions including in an ensemble for Encore 2007. She has also performed at the Opera House as a part of the Sydney Public School Singers and the Penrith High School's vocal ensemble.
Ashley performed as a soloist at many school functions, including assemblies, presentation evenings and orientation days. She was a Music Leader in senior school and participated in debating in various competitions including the Blue Mountains Debating Competition and the Karl Cramp Cup. Through debating she has developed skills in problem solving and strengthened her strong leadership qualities.
Ashley has been involved with netball for her local club for 10 years, as a player, umpire, umpire coach, committee member and administrator. Her charitable work includes involvement with Guide Dogs Australia, World Vision and the 40 Hour Famine.
She is self-motivated and has held part time and more recently full time employment with Woolworths. She was promoted to Service Supervisor, giving her responsibility over 20 staff. She learned to deal with customers and management, and learnt many communication skills to deal with diverse groups.
Since leaving school in 2006, Ashley has maintained full time employment with the Civil Contractors Federation as an Administration Assistant/Event Assistant. Her responsibilities have included event management related activities - coordinating corporate days, gala dinners, seating and entertainment.
Ashley is a proud Australian and believes her Hawker Scholarship will allow her to study and as a result of her dedication to her goals, she will make a major contribution to Australian society.
She believes through her course selection which includes Middle Eastern Studies, American Studies, South East and Central Asian Studies and her interest in Australian politics, Foreign Affairs and Defence, she will contribute to making this country and the world a safer and more prosperous place.