Hawker Scholar: 1991 - 1995
Degree: Arts & Honours in French and Politics
Institutions: University of Adelaide
Residences: St Mark's College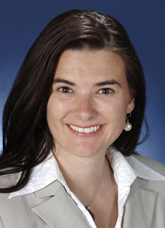 Written in 2011: It is confronting to discover that, in the blink of an eye, you have become one of the old guard. It seems like only yesterday that I unpacked my bags in a tiny room in Hawker Annexe at St Mark's College, Adelaide, to begin my four years as a Hawker scholar. But it was, in fact, just over twenty years ago; I was a member of the second ever intake of Hawker scholars, in 1991. I spent three memorable years at St Mark's (taking a year off in 1992 to work as an au pair in France) during which time I completed a classic old-style mixed-bag Arts Degree, exploring a vast range of subjects and dabbling in student politics and many other on-campus activities. I then received the support of the Hawker Foundation for a further year while I completed Honours in French and Politics. In 1996, I joined the Department of Foreign Affairs and Trade as a Graduate Administrative Assistant. I arrived in Canberra in early February, ready for a bit of Australian summer after a few months backpacking through Indonesia and chilly Europe, only to find Canberra heaters already on. I have been with DFAT since that time, working in Canberra on Australia's relations with Singapore, Malaysia, the UN fourth committee, and the Pacific Island countries, and being posted overseas to Hanoi, Vietnam (as Third then Second Secretary), Honiara, Solomon Islands (as Deputy High Commissioner) and Noumea, New Caledonia (where I am currently Australia's Consul General, responsible also for French Polynesia, Wallis and Futuna, and Australia's engagement with the Secretariat of the Pacific Community). Along the way, I have completed a DFAT-sponsored Master of Arts in Foreign Affairs and Trade through Monash University and a Master of Arts in Applied Linguistics through the University of New England. I have also added Vietnamese and Solomon Islands Pijin to my stock of language which previously consisted of French, Spanish and Indonesian (acquired at school and during my undergraduate studies), and have travelled widely throughout the regions in which I have been posted. My current posting in Noumea has been particularly rewarding personally, as well as professionally, as I met and married my husband here, acquired five step children, gave birth to our son, and will shortly give birth to our second child. So yes, I guess that adds up to twenty years' worth of life. I consider myself extremely fortunate to have a job that has afforded me such opportunities and that continues to interest and excite me. I am grateful to the Hawker Foundation for giving me a deeply privileged start to this career and in particular for lodging me at St Mark's, where then-Master Robyn Ashwin was instrumental in sparking my interest in Foreign Affairs.