Hawker Scholar: 2004 – 2006
Degree: Bachelor of Arts (International Relations)
Institution: Australian National University & in residence at Burgmann College
Career goal: To pursue a career with the Department of Foreign Affairs or AUSAID that would lead to environmentally sustainable agriculture and tourism. She also wants to contribute to indigenous reconciliation by building bridges not barriers.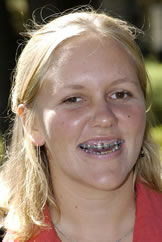 Amie Milligan is a country person and proud of her family dairy farm at Cundletown in NSW.
Amie was educated at the Taree High School, was School Captain and graduated in 2003 with a University Admission Index of 96.05.
Amie by any measure is a high achiever, an outstanding student and a major contributor to the community.
Her academic achievements have been recognized by a significant number of school-based, state and national awards and prizes including repeated dux of several subjects and credits and distinctions in numerous national science and chemistry competitions.
During her time at Taree High School, Amie demonstrated excellent leadership skills and held a number of senior student positions. She is a debater, writer, sportsperson, broadcaster, musician and singer. She excels in every thing she does. She is a committed environmentalist and an activist in indigenous rights.
Amie's significant contribution to the community has been recognised with numerous local, state and national awards. She has been awarded an Order of Australia Association ' Certificate of Commendation' and medal for Community Service. She was selected as a member of the National Youth Roundtable in Canberra in 2002 and was invited to deliver the opening address.
In 2003 Amie was one of 100 young people in the Asia-Pacific region selected to attend Eco-Innovate 03, a United Nations conference on environmental sustainability.
Amie was one of eighteen in NSW elected to the SRC Council Working Party and responsible for coordinating the 2002 State Conference and took part in the Young Endeavour Voyage form Melbourne to Sydney.
Amie is an outstanding person whose sustained commitment to the community and personal development made her a strong candidate for a Hawker Scholarship.