1999
Ms Alison Ellen Lloydd-Wright
Hawker Scholar: 1999 - 2001
Degree: Bachelor of Arts -1999 Bachelor of Arts/Law - 2000
University: University of Adelaide
Career Goals: Political Analyst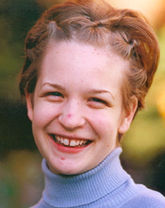 Alison Lloydd-Wright graduated from the Glenunga International High School in Adelaide in 1998. She studied the International Baccalaureate, an internationally recognised and accredited matriculation program.
Alison received awards for Academic Achievement in Art, English and Maths Studies as well as receiving the Caltex Best All Rounder Award in 1997 and 1998. Alison is an independent learner, exceptionally well organised, highly motivated and very creative and thrives on challenges.
Alison has excellent communication skills in both written and oral forms and enjoys a good conversation. In 1997 and 1999 she represented both her school and her home state of South Australia in debating.Alison has served as a vice president of Key Club, a student subsidiary of Kiwanis International, contributed to school swimming and sports days and participated in netball and basketball coaching.
With an eye to her future as a political analyst, Alison holds similar beliefs to those expressed by James Freeman Clarke (1810 - 1888) - "A politician thinks of the next election - a statesman of the next generation".