Degrees: Bachelor of Law / Asia Pacific Studies
Institution: Australian National University
In Residence: Burgmann College
Career Goal: To work as an ABC foreign correspondent
Education History: Loreto College 2005 - 2010; Peking University 2011 – 2012; ANU 2012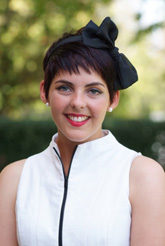 Alice Dawkins is a highly motivated, outstanding and hard working student. Foreign languages and exploring lands off the beaten track are two of her passions which she hopes will lead her into a position with the national broadcaster in the future as a foreign correspondent.
Alice has already achieved much in her life. Every achievement has been at the highest level and all have added to her life experiences. She completed her secondary schooling at Loreto College in Adelaide with an ATAR of 98.7.
In her senior year Alice studied 7 subjects and achieved straight As. She's a national winner of the History Challenge (2008), is a SA Young Historian of the Year (2009), she successfully participated in the Premiers ANZAC Spirit Award Competition and was one of six who took part in a 16 day study tour of France and Britain. Alice gained Principals Academic Achievement Awards for every year she attended Loreto College.
Her academic and scholastic awards are numerous and a testament of the dedication and commitment Alice has to high achievement. Alice has been heavily involved with United Nations Youth Australia. In 2009 she was awarded Best Speaker at the UN Youth SA State Conference, subsequently achieving a place on the SA Delegation to the UN National Youth Conference. Following the National Conference, she was selected from a pool of 150 for the sixteen-person Australian Delegation to The Hague Model United Nations (THIMUN).
THIMUN was a watershed experience for Alice. It homed her skills in public speaking and teamwork and provided a special chance for her to represent Australia. At THUMUN, she successfully won a place from a global pool for the International Court of Justice program. With less than 20 other high-school age students from every corner of the globe, the model ICJ activity was a valuable lesson in the intricacies of discussing legal issues and resolving problems in an international context.
It was a driving factor towards her studying law at ANU. She saw the potential for the law to be an instrument of justice in dire situations such as war crimes. Her urge to give back to UN Youth culminated to working as a member of the Organising Committee for the 2011 National Conference, where she organised a day of events under the theme of 'Human Rights in the Asia Pacific'.
The highlight was a Q&A Panel hosted by Maxine McKew under the theme of "Immigration, Indigenous Rights and Multiculturalism: Is Australia a sound leader in the Asia Pacific?"
She spent her 'gap year' in 2011 studying Chinese at the prestigious Peking University in Beijing under a scholarship from the Chinese Bridge competition.
During this time Alice was placed in the advanced stream for Chinese language courses. Her electives included studies in newspapers, periodicals, and Chinese films. She studied with some of the best and brightest minds from all over the world, including but not limited to, the UK, the US, Russia, Japan, Korea, France and Germany.
It was the impressive abilities of her fellow students, which inspired her and a Swedish friend to launch an online journal project, which publishes under the domain farandwide.org. The aim of the journal began as a base to collate ideas and perspectives from their diverse friendship base at Peking University.
To date farandwide.org has published five issues, on topics ranging from Chinese ideology and culture, to the benefits and downfalls of cross-border communication. The journal is one of Alice's proudest achievements, for what began as a fleeting idea shared amongst friends, transformed over the space of one year, to become a space where powerful ideas are exchanged across borders and cultures.
Alice draws on the theme from Luke 12 popularised by JF Kennedy – 'those to whom much is given, much is expected.'
Ms Alice Dawkins is a young person who is an inspiration to others and leads by example. She is highly motivated and an outstanding young Australian. The future for Alice Dawkins is exciting. She is a deserved winner of a C.A.S. Hawker Scholarship.