Degree: Bachelor of Philosophy Honours (Arts)
Institution: Australian National University
In Residence: Burgmann College
Career Goal: A career either in international diplomacy or directly with the UNHCR or UNRWA and to work in the area of conflict resolution
Education History: Canberra Girls Grammar School 2008 - 2012; Australian National University 2013 -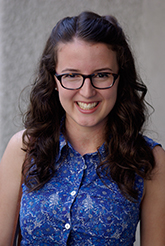 Alexandra Biggs is a highly motivated, outstanding and hard working student. Her early educational years were spent in various parts of the world including Vienna, Riyadh and Saudi Arabia. In her final year of secondary school at Canberra Girls Grammar School she was School Captain and was Vice-Chairperson of the Student Representative Council and a member of the Boarding House Council in 2011.
At Canberra Girls Grammar, she studied Mathematics, English, German, Modern History and Music. She was an exemplary student. She was a mature and confident young woman who always strived to do her best – and her best is very good. Alexandra's ATAR was 99.15. She has been described by her teachers at CGGS as a singularly gifted student who demonstrated excellent organisational skills and a commitment to a range of eclectic interests. She achieved Academic Achievement awards in 2011 and 2012 for English, music and languages. Alexandra's exceptional contribution to her school in 2012 resulted in her being presented the Principal's Award and the Caltex Best All Round Student Award.
At CGGS Alexandra was twice a member of the ACT Debating Team, attending and speaking at Nationals in 2011 and twice the ACT winner of the Plain English Speaking Award. She represented Australia at the World Individual Debating and Public Speaking Championships in May 2012, having placed third at the Australian finals. Last year she was selected to represent the ANU at the Australasian Women's Debating Championships and intend to trial for the World Championships this year. She have also been chosen as the youth debater for the annual Australian Women's History Month debate held in March. She represented the ANU at the Model United Nations competition in New York in April.
Alexandra is a passionate musician. During her final two years of school she was concertmaster of the Combined Canberra Grammar Schools Symphony and Chamber Orchestras, winning awards at the Australian National Eisteddfod in 2012, and leader of the Gabriel Quartet.
She achieved her AMEB 8th grade in violin in 2011. At the community level, she has been a member of the Forrest National Chamber Orchestra. At Burgmann College she has played in the Burgmann String Quartet and the Burg Band this year. She has been selected to direct the Burg Band in 2014. She also enjoys choral singing and this year was a member of the Burgmann Singers.
She firmly believes in a balanced lifestyle and has continued a wide range of sporting activities this year at ANU. She represented Burgmann at touch rugby, netball and cross-country running in the interhall competitions. She also played for ANU netball, and her team won the Division 2 internal competition in 2013.
Her decision to major in History comes from a long-held passion for the subject. She believes that it informs and guides decisions of national importance. In 2009 Alexandra was named Australian Young Historian of the Year and in 2010 she was the ACT winner of the Simpson Prize. In 2010 and 2012 she was awarded ACT Young Historian of the Year. In 2012 she was a member of the Youth Working Group for the Anzac Centenary Advisory Board, helping to determine how Australia will commemorate a century of military service.
In her first year at ANU she undertook Introductory Arabic and Middle Eastern Studies and intends to continue Middle Eastern Studies as well as enrol in Political Science units.
Alexandra has a strong commitment to public service, instilled in her by her DFAT officer father. She takes an active interest in politics, both domestic and international, and seeks, like the scholarship's namesake, to make a significant contribution to Australian public life.
Ms Alexandra Biggs is a young person who is an inspiration to others and leads by example. She is highly motivated and an outstanding young Australian. The future for Alexandra is exciting. She is a deserved winner of a C.A.S. Hawker Scholarship.