Hawker Scholar: 2007 – 2010
Degree: Bachelor Environmental Science & Bachelor of Laws
Institution: University of New England
In Residence: Robb College
Career Goal: A position with the Department of Foreign Affairs & Trade, or environmental reporting which concerns Australia's cultural and natural heritage.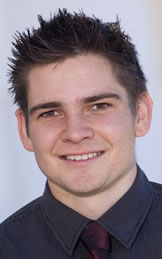 Mr. Zac Gazzard completed his HSC exams at St Leo's Catholic College in 2006 with a UAI of 90.7. He has always had an interest in environmental issues and politics and has been involved in many different related activities. He has been widely recognized for his efforts in this area, winning a range of Keep Australia Beautiful, Commonwealth Bank and regional environmental awards.
He has worked with the Baulkham Hills Shire Council Youth Committee and Bushcare, as an Educational Tour Guide, with the Waterfall Springs brush-tailed rock wallaby recovery team and the Waratah Park Earth Sanctuary.
Zac went to an Island in New Zealand in 2005 where the team caught rock wallabies and returned them to Australia as part of an environmental project. In 2005 he was on the Working Group for the recent DEC Youth Forum.
In 2006 he was awarded the St Leo's College Prize for consistent effort in studies. His passion for English and reading will be applied in any future career in law or politics. He believes a command of English to be a powerful and essential skill to communicate any political message.
Over the past year, Zac has been involved with Oz Green's community projects in Sydney. This organisation focuses strongly on empowering young people and communities to make better decisions for the future environment.
Earlier this year, he participated in The Sankat Monchan Foundation's Clean Ganges Campaign in India. This project gave Zac hands-on skills in community leadership and strategy implementation in poorer countries.
He is studying environmental science/ law at New England University because of his strong interest in this field and his concern for Australian communities and major issues affecting them.
His father is a Vietnam Veteran. As a result, he has developed a great respect for those involved and affected by war. In 2004, Zac received a Legacy Award from Sydney Legacy for his voluntary fundraising campaign to help those affected by war.
His interest in environmental law is centred on his dream of one-day influencing policies to ensure Australia is both sustainable and safe for its citizens. With increased political focus on issues such as climate change and water, it's clear that environmental law will play a key role in Australia's political future.
He has a passion for engaging young people in issues which concern them. He mentors young people in theyouthLEAD Network Australia. Through this role, he encourages others to act on moral and ethical issues within their communities, and strongly promotes grass-roots action.
Zac lives by Robert Redford's motto "Problems can become opportunities when the right people come together".
He takes an interest in all areas of the law and its implications for politics. His passion for Australian heritage and politics is reflected by his position as a youth representative on various boards including the Keep Australia Beautiful Advisory Committee.
Through this and other positions Zac has gained experience in influencing policy and decisions which concern Australia's future.
Zac is a young man on an important mission and only the second Hawker Scholar to attend the University of New England.