Degrees: Bachelor of Laws / Bachelor of International Studies
Institution: Australian National University
In Residence: Burgmann College
Career Goal: To make a difference in the world
Education History: Narangba Valley State High School 2008 – 2009; Queensland Academy for Science, Maths and Technology 2010 - 2012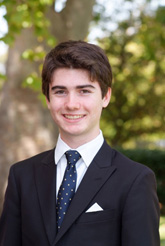 Mr. Tristian Delroy is an exceptional individual and has been recognized as such from a very young age. His achievements to date are outstanding and he is mature beyond his years.
Tristian was born at Beaudesert in Queensland. He is a graduate of the Narangba Valley State High School in 2009 and the Queensland Academy for Science, Maths and Technology (QASMT) in 2012. His ATAR score was 99.95. QASMT is a selective High School where students study the International Baccalaureate Diploma Programme.
In 2012 Tristian's leadership roles included QASMT school captain, a member of the Academy Representative Council, Chair of the Harmony Day Organising Committee and Queensland School's Constitutional Convention Team Captain. In the previous year Tristan was the UN Youth Association Evart Trophy Competition Team Captain.
Tristan is an intelligent young man who participates and achieves at an exceptionally high level. His academic achievements have been many and outstanding. He's an Academy Dux, public speaker and District Tennis Champion.
He has been recognized with a wide range of awards including Academic Excellence Awards, the Australian Science Olympiad Examination and the QASMT Year 12 IB Award for outstanding academic results and service to his community and school.
Tristian's application to his studies is outstanding. Tristian has a high degree of self-motivation and self-discipline and gives maximum effort to his studies. He is an inquiring, knowledgeable and caring young man who displays the characteristics of a well-rounded academic student across both the sciences and humanities. Tristian always approaches his studies with enthusiasm and passion.
Within the wider community his service has included being a volunteer at Morayfield Salvation Army Store, helping to sort donations, organise products on shelves and assist customers, his participation in the Cancer Council Australia Relay for Life, International Women's Day Fun Run and Bridge to Brisbane and as a volunteer at St Paul's Lutheran Church in Brisbane.
While on exchange in France, Tristian helped the English teacher to mark oral exams and led class discussions about Australian culture, sharing information about Australian flora, fauna and geography.
He plays the alto saxophone, speaks French, has worked at The Australian Institute for Bioengineering and Nanotechnology, plays tennis and hockey, enjoys cross country running and is a published writer.
His highly developed skills in time-management, problem-solving, research, and organisational skills, whilst also managing to maintain a healthy work/life balance, allowed Tristian to successfully complete the International Baccalaureate Diploma Program two year History course in twelve months.
Tristian is a high achiever with a social conscience. The world will hear a lot from Tristian Delroy in the future.