Degree: Bachelor of Law
Bachelor of International Studies
Institution: Australian National University
In Residence: Burgmann College
Career Goal: DFAT position – then (dream job) Minister for Foreign Affairs and Trade
Education History: Prince Alfred College, Adelaide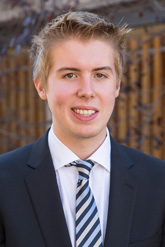 Until now, Timothy Hobbs has been a one-only-school student. He started at Prince Alfred College in Adelaide in 2001 at the age of four and completed his International Baccalaureate Diploma fourteen years later with an ATAR of 98.25 and wearing the 2015 School Captain's badge.
Timothy is the first Prince Alfred College student to be awarded a C.A.S. Hawker Scholarship.
Along the way at PAC, he's been a Dux at various times, a Gold Duke of Edinburgh Award inductee, a Long Tan Youth Leadership and Headmaster's Medal winner and has been awarded numerous academic and sporting colours. He is a published author, plays the bass guitar and has been the Editor of various journals.
As College Captain Timothy had a challenging task of balancing the demands of a high profile leadership position with those of his academic and co-curricular responsibilities. He attended to all facets with poise, purpose and sincerity.
To complement his success as a scholar, Timothy found the time, enthusiasm and energy to develop his skills and contributions to a wide range of co-curricular interests.
He represented the College in soccer and tennis and from an early age developed a passion for debating. Timothy won several College and community awards for his mastery of public speaking and debating which include him being a State Grand Finalist in 2015 in the Plain English Speaking Awards.
In 2014 Timothy made the National Grand Final of the United Nations EVATT Competition. He is very astute at engaging an audience. He is articulate and possesses highly developed communication skills. He can think clearly and quickly on his feet when under pressure.
Timothy's record of service and leadership is exemplary. In addition to his role as College Captain and Prefect, other contributions include Cancer Council Youth SA Ambassador, Burnside City Council Youth Advisory Committee Member and a volunteer for Independent MP Nick Xenophon. These positions demonstrate Timothy's personal 'call to action' and his commitment to making a difference.
Through his studies, his actions and his service he has developed an impressive character, which exemplifies the qualities of the next generation of inspirational leaders. Compassionate, quietly confident and international in his thinking, Timothy is a mature young man who is ready to make a genuine impact and difference in the world.
Timothy's academic ability, coupled with his impressive track record of service, leadership and public speaking will provide him a solid foundation on which he will build his future studies and his career.
Timothy Hobbs has integrity, commitment, compassion, humility, strength and leadership qualities beyond his years. He is a deserved winner of a C.A.S. Hawker Scholarship.