Hawker Scholar: 2004
Degree: Graduate Diploma (International Affairs) MA (International Affairs
Institution: Australian National University & in residence at Burgmann College
Career goal: To pursue a career in government and the diplomatic service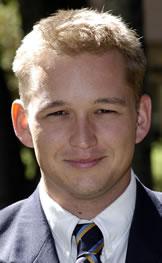 Stuart Watts was educated at The Armidale School (TAS) in Armidale on the New England Tablelands NSW, graduating in 1997. He completed Bachelor of Business at the Queensland University of Technology (QUT) in 2001 and then spent time working, studying and teaching in India and Japan.
At TAS, Stuart was School Captain in 1997, an outstanding all rounder of exceptional ability and commitment and was actively involved in all facets of school life.
He is a talented sportsperson and played hockey, soccer and cricket and competed in athletics. He represented Northern NSW Under 21's in cricket and in athletics represented TAS at GPS level and was champion for his age at TAS for three consecutive years.
The Japanese Exchange and Teaching Program (JET) Kochi Prefecture in Japan Stuart undertook following the completion of his degree at QUT in 2001 involved organizing international days for Japanese students to learn about and experience different cultures and assisted the development of English programs in rural Japan. Other activities included basic translating for local villagers and the Board of Education and assisting the planning of overseas exchanges for local Japanese students.
Since returning from Japan, Stuart has been involved in various international humanitarian activities including traveling with a group of Armidale students to work in an orphanage in Fiji. In January 2004, Stuart went to India to organise an Australian high schools initiative titled "Pilgrimage of Hope" which will involve students working with Mother Teresa's Missionaries of Charity in Kolkata and possibly a visit to the Vatican for an audience with His Holiness the Pope and then to London to meet His Grace the Archbishop of Canterbury and Her Majesty the Queen.
Stuart Watts is a high achiever, an outstanding young Australian and a deserved recipient of a C.A.S. Hawker Scholarship.