2001
Mr Stephen Michelson
Hawker Scholar: 2001 - 2004
Degree: Bachelor of Arts/Law
Institution: Australian National University, Canberra
Residence: Burgmann College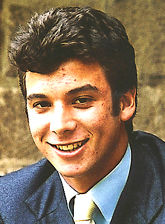 Stephen is proud to say "I'm a local product of Wangaratta, a rural town of 18,000 people nestled at the gateway of the Victorian Alpine region." Stephen attended the local primary school and regional Catholic College. In 1996 he entered Geelong Grammar School, the same school attended by Charles Hawker in his youth.
Stephen was an exceptional student at Geelong Grammar. He graduated with a Victorian Certificate of Education score of 95.95. He studied English, Chemistry, International Relations, Mathematical Methods and Classical Societies and Cultures.
In his final two years at Geelong Grammar Stephen received numerous academic and community service awards. These included the John F Mann Prize for Service, awarded for 'exceptional service to school and local community', the Webb Cup for 'outstanding humanity and service to Manifold House' and the Sinclair Trust Prize for 'exceptional initiative and enterprise with the community.'
He's held various positions of responsibility within the school from house prefect to house music captain. He participated in school swimming, athletics, football, tennis and cross-country and was an active member of the Timbertop Outdoor Education Programme. In 2000, Stephen achieved a Gold Duke of Edinburgh Award.
He is an accomplished musician, public speaker, volunteer for Red Cross and Salvation Army annual door knock appeals, is an active member of the United Nations Youth Association of Australia and was recently selected to attend a series of 'Future Leaders' conferences aimed at young leaders of the future.
Stephen is a resident of Burgmann College at the ANU where he is studying an Arts/Law Degree. He is an intelligent, talented and articulate young Australian. Stephen Michelson is a very worthy recipient of a 2001 Charles Hawker Scholarship.