Degrees: Bachelor of Engineering (Hons) and Commerce
Institution: Australian National University
In Residence: Burgmann College
Career Goal: A leader in the field of renewable energy
Education History: Gippsland Grammar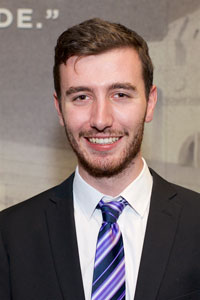 Solomon Jones is an high achieving all rounder who is described by the Principal of Gippsland Grammar as an outstanding student and leader who is reliable, genuine, hard working, compassionate and selfless and who has left a strong legacy for future Gippsland Grammar School Captains to maintain.
He has represented Australia at an international science forum, is a clay target shooter, a debater, plays the saxophone, has a Taekwondo black belt, spends time camping in remote Australia, achieved an ATAR of 97.7, is an ADF Long Tan Awardee and instead of 'Schoolies' celebrations, Solomon worked in a village in Rwanda.
In 2016 he was one of three selected to represent Australia at the XLAB International Science Forum in Germany and one of six Australian students to attend the National Youth Science Forum in New Zealand.
The list of Solomon's community, sporting and academic awards is impressive.
In 2016 he was awarded the Malmo Scholarship for students who have contributed to their local community, the Big Science Competition Award, the Old Boy's Prize for Head Boy, the Cunliffe Prize for all-round achievement, an academic award for the highest score in Specialist Maths and a merit certificate in Physics, as well as Half School Colours for Music and Full School Colours for Debating and Clay Target Shooting.
In 2015 he undertook VCE VET Furnishing and received the VCE Premier's Award for the highest score in Victoria. Solomon was chosen as one of two from Gippsland Grammar for Melbourne University's Kwong Lee Dow Young Scholars program for 2015/16.
In 2014 he achieved a Certificate of Excellence for his essay on the changing perspectives of Climate Change, in the National History Challenge. The essay progressed to the national level.
He holds a Duke of Edinburgh's Bronze Certificate. His community service included assisting an elderly lady with household jobs and constructing an outdoor cat enclosure.
At the school awards ceremony he received an Academic Award and the Lions Club Award for Academic Excellence, Sporting and Cultural Achievements and Community Service.
His leadership positions include School Captain, Debating Captain, House Captain and Student Representative Council Treasurer. In 2015 he attended the week long Rotary Adventure in Citizenship in Canberra as one of thirty students from around Australia in a leadership development programme. The programme provided participants with an insight into the workings of the Australian Federal Government.
In 2014 he was selected as a peer support leader, a mentoring program for year seven students and was the captain of the Clay Target Shooting Team for 2014/15.
His community involvement includes working with Rotary, participating in Clean Up Australia Day, volunteering at a local youth music festival "Down the Alley" and working on restoring a local youth centre in Sale.
He has been building computers and repairing phones for many years and is excited about the advancement in technology in this area around the world. Elon Musk is his role model.
There is no doubt that through his engineering studies, Solomon will make a significant contribution in the field of renewable energy in Australia and around the world.
Mr. Solomon Jones is a deserved winner of a C.A.S. Hawker Scholarship.